A Week in Tuscany near Florence
Saturday - August 27 - Buis-les-Baronnies to Torri (near Rignano sull'Arno) - near Firenze
We knew that today would be a long day, so last night we packed most of our belongings and loaded the car. Saturday is the open-air market in Buis-les-Baronnies, so before breakfast, I went to the market and bought some fresh fruit, vegetables and the now inevitable chevre. I asked one stall owner (in French, amazingly enough) for lettuce. "Oh no, there is no lettuce this time of year, it is too hot!" She sold me something that looks exactly like butter lettuce. I wonder what it is?
We bade our hosts farewell, renamed the navigation system 'Antonella' since we are now going to Italy, and programmed her to the closest village to our first agriturismo lodging in Italy (Toscana, not too far from Firenze). It took a long time to get to the Autoroute because we had to go through many small towns and villages. Eventually, near Avignon, we got on the Autoroute, headed direction Nice. The thing we found frustrating about the Autoroute is that the toll booths are very frequent and they don't do a particularly good job of informing drivers the amount of the toll. Also, it takes a bit of getting used to understanding which booth you need to go through - we know our credit card doesn't work and we don't have a Telepass. Some of the booths are not manned and take exact change only, but you can't always tell what the toll is. We decided the safest, although slowest, approach was to go through the manned booths. At least we weren't alone. It was a common sight to see drivers get to within 50 meters of the toll booths and start jockeying for position to get to the lane they needed.
We had expected heavy traffic, this being the last Saturday in August, but were pleasantly surprised that we did not encounter any major backups. We entered Italy around 1:00 p.m. and stopped for a quick bite at an Autogrill, one of the rest stop restaurants very common in Italy. We certainly knew we were in Italy! The noise level increased by 50%, there was absolutely no queuing and there is a dragon lady outside the WC making sure you pay.
We needed some fresh food such as butter, eggs, chicken and ground beef to get us through the weekend (tomorrow being Sunday, all the stores will be closed), also needed some cash and petrol, so we pulled off in La Spezia, thinking it was small enough we'd be able to get everything done quickly. Alas, we are in Italy, nothing happens quickly except the maniacal drivers. The first Bancomat (ATM) I tried accepted my card, then told me that the machine was out of order and did I want to continue? Huh? The second one had very strange instructions that I couldn't understand - I could pay my electric or telephone bill, but I couldn't figure out how to get cash. The third one worked. In my search for an ATM, I found a small supermercato (supermarket), so we bought most of the rest of our supplies there. Out Italian is sufficient that we are able to communicate with the help in the stores, even though our communication is by no means elegant. Before getting back onto the Autostrada, Tom filled the car, and off we went.
We got to Firenze around 7:00 p.m. Our destination is south east of Firenze, which involved taking the 'ring road'. We had written instructions from the booking agent which involved getting off the Autostrada in Firenze, but the queue was at least a mile long, so we decided to let Antonella navigate us. Interestingly, our written instructions included the location in latitude and longitude (down to the second) but Antonella doesn't have a way of programming this in. We were supposed to take the second road past the castle, but we couldn't tell which was the second road, as opposed to driveways, so we ended up calling the manager, who came to our rescue.
Our agriturismo is very nice - a nice kitchen, private patio, bedroom and separate living room, full shower bathroom. The only problem is the oven doesn't work - the manager said that this was explained on the website, but neither of us remember this and there isn't a way of repairing it. We'll make do. There is a washer on the property (we haven't figured out where yet!).
Sunday - August 28 - A rainy day in Tuscany
It was raining when we awoke and rained for most of the day and evening. We took our time getting going (having breakfast, showering, etc.), but enjoyed the luxury of a good cup of coffee. We had been told that there was a Coop supermarket in nearby Pontassieve and that the easy way into Firenze was by train from that town. So we decided to go explore Pontassieve. We found the Coop and the train station easily.
Mel remembered seeing signs for some outlet stores, so we set off in search of same. It took some doing, but we finally got to within a few hundred meters of where they were supposed to be. However, we never did find them. We did see a sign for a large shoe store (Supermercato di Scarpa) that had two locations, including one in Pontassieve. Since my Dexters (my beloved Dexters that I have had for about fifteen years) had started coming apart, I needed a new pair of shoes. But tomorrow would be soon enough to go in search of that worthy establishment.
So we headed back to the digs to finish unpacking and have a home-cooked meal. Needless to say, it was not a good day for photographs. It was a good day for producing a menu for the week and a grocery list, and for doing the laundry. Fortunately, our apartment has use of a washer and a nifty clothes drying rack. So with the menu and shopping list complete and the laundry done, we enjoyed that meal.
Monday - August 29 - Shopping and fun in the sun
The rain had passed through during the night, but not without a good dose of Tuscan thunder that seems to roll around the hills for many seconds. Sunshine and blue sky were welcome. Our apartment has a private patio where we ate our breakfast while we waited for the sun to rise above a passing cloud. It did so and the warmth was wonderful. The breakfast was pretty good too, although we are still waiting to find some good bread.
Back into Pontassieve and we found the Supermercato di Scarpa - chiuso per ferie (closed for holiday). We walked over to the nearby magazine kiosk and asked first about barbers. It was more than seven weeks ago that we last had haircuts. Ah, barbers are closed on Mondays. Then we asked about shoe stores. Ah, they are also closed on Mondays, although perhaps open in the afternoon (if not chiuso per ferie). We gave up on that and went to the Coop. We were able to fill our shopping list (except for the few things we had decided could not be found in Italy - like baking powder). We got to checkout and found that they don't accept credit cards - interesting. Fortunately we had sufficient cash. By now it was time for lunch and we set off in search of same. After much driving around Pontassieve, we found a small cafe. We got two prosciutto and fontina sandwiches, two tarts, and a bottle of mineral water for less than six euros.
We headed back to the digs and unpacked the groceries. Then it was time for that fun in the sun. We spent some delightful time laying out in the Tuscan sun working on our tans. Mel was still in need of some additional underclothing, so we went back into Pontassieve and found some for both of us. Then back down that delightful unpaved path to the apartment, a little leisure time on the patio, and dinner. We planned the rest of our time in Tuscany and will have four busy days before heading to Rome.
Tuesday - August 30 - Firenze
The weather has turned decidedly warm - around 30 degrees centigrade (86 Fahrenheit). We had put together a list of things to see in Firenze. This is my fourth trip to Toscana (Tom's third, as he did not come here with me when my mother visited us while we lived in Copenhagen). Regardless, neither of us have tired of Firenze and neither of us has seen all there is to see. There is a Rick Steves' 2005 Italy book in our apartment and he recommends a 'well organized day' in Firenze if you are in Italy for three weeks. One day? I can't imagine! Cadogan says you can't see all there is to see in three weeks. Well, we don't have three weeks, but we do have three days for Firenze - the other day we plan to go into the Tuscan countryside and discover Brunello (more about that on Thursday).
Our agriturismo is down a long, very rocky 'road' which wouldn't be tolerated by the US Forest Service - it has ruts and rocks and mud. However, on either side it has grapevines and olive trees. This property, I suspect, was once part of the larger property of Volognano, the 'castle' just up the hill from us. Across the valley are some hills, with little villages interspersed along the way - at night we can look out and see their lights; in the daytime, we can look and see dozens of little villages in the pale brown stone typical of the area. I love to look across the hills and see the villages, olive trees, vineyards and Tuscan cypresses (which in times past were used to mark boundaries between properties). There is a timelessness to it all - when you think that Toscana has been inhabited for thousands of years, it puts the petty problems of ovens not working into perspective. Here is a picture of some of the vines, nearly ready for harvest, just outside our agriturismo.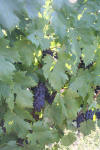 Soon these grapes will be ready for harvest

Here is another picture of grapes ready for harvest
This morning we ate breakfast on our little patio. The caretaker came by to do some work, but first things first - he spent several minutes picking things that looked like peas out of the pod. It turns out they are capers. I think they have to be cured before you can use them. The property also has several very respectable rosemary plants - I picked some a few days ago to flavor our potatoes.
Rather than drive into Firenze we took the train - round trip is €9 for the two of us - we know from experience that parking and traffic in Firenze are terrible. The train ride is only about 25 minutes. Before we got on the train we made appointments for haircuts tomorrow in Pontassieve. This will be an experience - the hairdresser speaks a smattering of English and we speak a smattering of Italian and my dictionary doesn't have 'cowlick'.
We were lucky to find an internet spot almost immediately, so took care of business, then headed to the Tourist Information for a map. We planned on seeing the Academia (where Michelangelo's David is kept) but the queue was enormous. It was then we got smart and called the Firenze booking office - the operators speak excellent English - when I tried to spell 'Henderson' I was told 'I know, that's easy' (this is pretty amazing to me because we are generally known in Italy as the 'endersons). We made reservations for the Academia on Wednesday and the Bargello Museum on Friday.
We had a light lunch near the Academia - the best part was Tom's dolce (dessert) - a concoction called Pannecotta con cioccolato or 'cooked cream with chocolate' - I have no idea how it is made, but it is a sort of sweet white pudding, with a dark chocolate pudding on top. Delisioso!
We are both finding that our spelling and reading in English are suffering badly - we see words in English and try to sound them out in Italian. 'Viceversa', the name of a shop we passed today, becomes Vicheversa to us. And we've only been in Italy a few days!
Our next destination was a museum that a lot of tourists miss - the Museum of the Cathedral (Museo dell Opera del Duomo). Most of the art work in the cathedral has been moved here. What a collection! It is here that two very famous works of art are displayed - the absolutely heartbreaking "Mary Magdalene" by Donatello and a Pieta by Michelangelo. It is such a shock to enter a room and find one of these pieces on display - we've seen pictures of them so many times in the past. The Mary Magdalene is particularly moving - she is obviously in great distress - she is a life-sized woman, but emaciated, so she looks frail.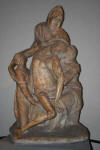 Michelangelo's Pieta - the large figure in the rear is said to be a self portrait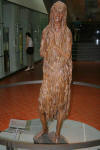 Mary Magdalene by Donatello - this is a carving (in wood) that is so moving, we spend several minutes in front of her, wondering what she was thinking. This was one of the most moving pieces of art we have ever seen.
But more than these are the panels from the Ghiberti doors ("The Gates of Paradise"), These are the original panels, moved here after the devastating flood in November 1966. What can you say? They represent stories from the Old Testament, in great relief, so the details are three dimensional. Eight of the 10 panels are on display, the others presumably off for restoration.
The Gates of Paradise by Ghiberti in the east door of the Baptistry - panels in the positions they occupy in the doors - left to right and top to bottom
God gives life to Adam on the left, and creates Eve in the center
The story of Cain and Abel
The drunkenness of Noah
Abraham and Isaac
Isaac and his sons, Esau and Jacob
Joseph
Moses - he is atop the mountain on the right
Joshua
The story of David and Saul - notice that David has just slain Goliath in the front of the panel
Solomon and the Queen of Sheba

These sculptures were originally over on of the doors of the Duomo - they show the baptism of Christ
Ah, that flood. It probably dates me to say that on my first trip to Europe, we could not come into Firenze because of the flood. The Museo is 600 or more yards from the Arno River, yet the flood waters reached over 6 feet in the museum. I read somewhere that the flood was exacerbated by someone opening some gates in the Arno and not informing the authorities in Firenze that they were going to do so. So much art work was damaged, some beyond repair.
Tom still needs shoes to replace his beloved Dexters (he has finally conceded that he dare not take them to our local shoe repair place in Lakewood). He tried on two pairs (out of the probably more than 500 pairs we saw) but neither fit. We found what would have been the perfect pair, but they were €275 or about $335. We've got a couple more shops we'll explore on our next days in Firenze, and we are going to Siena on Thursday, so we'll have more opportunities to find the right style, fit, flexibility, color, sole and price.
We caught the train back to Pontassieve and returned to our little agriturismo. Tom is cooking pasta e fagioli tonight. Cooking in Italy is fun - the ingredients are fresh and generally excellent. However, the bread, surprisingly enough, is terrible. Why is it that a nation with some of the best cuisine in the world cannot come up with a decent loaf of bread? It is usually hard and tasteless. On the bright side, last night I experimented - we bought some zucchini flowers in the market and I fried them (I found the recipe in a French language Italian cookbook that someone has left in the apartment). They were wonderful and easy. I may plant zucchini just so I can harvest the flowers!
Wednesday - August 31 - Pontassieve and Firenze
What an event-filled day - it is just past 8 pm as I write this, we've had dinner and are trying to relax after our activities.
First off - to Pontassieve for our haircuts. The nice parrucchiere (hairdresser) cut Tom's hair first. He left the back 'in the Italian style' - that is, didn't trim his neck, so I cleaned that up in the evening when we got back to our agriturismo. Then the poor man was faced with my permed, short, thick, fine and cowlicked locks. Mama mia! He did a credible job, taking off about 3/4" all the way around. His assistant did the blow dry and tried her best to eliminate all semblance of curls - curls just aren't 'done' in Italy. However, I was pleased with the overall result. Interestingly, while we were in the shop there were three different uninvited visitors who came in - two African men (separately) selling things like Qtips and Kleenex in pocket sizes, and a European man (couldn't tell the nationality) with a sign like the people who sit at the end of freeway off-ramps in the US ("will work for food - veteran - God bless").
Tom is determined to only speak Italian to Italians - he is doing a super job - his accent must be excellent, because whenever he speaks, they seem to understand him. I'm rather timid yet - I think my grammar and vocabulary are a bit better, but I spend a lot of time mentally composing my sentences, by which time the listener has launched into English.
We had a slight wait after our haircuts for the train so we had a cappuccino (never done by Italians after 10:00 a.m.) and an Ochi de Bue ("bull's eyes") - little cookies with a jam or chocolate filling.
We didn't get to Firenze until close to noon and we had an appointment at the Accademia to see Michelangelo's David at 2:00. We headed off in the direction of the Accademia, which involved going past the Duomo (cathedral). As luck would have it, the line for the Baptistery was very short - although we hadn't planned on going in (we had done so on a previous trip), we decided to take a chance and see what there was to see. We were delighted! We had forgotten how incredible the interior was - the dome is covered in mosaics. They are in concentric circles, the closest to the top a choir of angels, then various Biblical scenes. Above the altar is an incredible Last Judgment - Satan's minions are gleefully devouring the condemned - it reminds me a lot of a painting in the Prado in Madrid by Heronimus Bosch (probably spelled wrong) called the "Garden of Earthly Delights." The floor has various, complex patterns in marble.
And then, outside, at the East entrance are the unbelievable "Gates of Paradise" by Lorenzo Ghiberti. We saw eight of the ten original panels yesterday in the Duomo Museum. Today, we saw the copy of the gates - we've described them above. They are one of the highlights of any visit to Firenze.




Above pictures are the interior of the Baptistery - the picture on the right is the Last Judgment. It is very rewarding to take the time to examine these mosaics because they are familiar Biblical stories.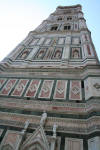 The three buildings that make up "Cathedral Square" in Firenze - the octagonal building on the left is the Baptistery, the Duomo with Brunelleschi's incredible dome - still a marvel of engineering, and Giotto's campanile (bell tower). The exterior is actually 19th century, while the other buildings are mid-11th Century and later.
Off to the Academia after a short lunch stop (where the owner stiffed me a couple of Euros). Wouldn't you know it - yesterday the lines were incredible - probably because it was Tuesday and the museum is closed on Monday - today they were non-existent, so our careful planning by making reservations was for naught.
I'm not that fond of the art in the Academia - the paintings are hung so high that you have to crane your neck to see them. However, the reasons to go here are four unfinished statues by Michelangelo and the incredible "David". What can you say about "David?" It is so breathtakingly beautiful that I always feel like crying when I see it. The attention to detail is phenomenal (the veins on the back of the hand, the muscles in the chest and back, and the tendons in the neck and hands are incredible) - this is the penultimate 'Renaissance Man' - bold and forward looking. Many of the art historians say this was the scene after David slew Goliath. I like to think this is the moment when David is sizing up his enemy - he is staring at the challenge before him, but also seeing into the future - someday he will be King - beloved of God, a man of great piety, wonderful Psalms and not a few sins.
Back out into the hot Florentine afternoon. We had wanted to see the Duomo, but had pretty much given up hope because of the lines - however, for some strange reason, the line was gone - we walked straight in (by the time we left, the line had reformed - how could we be so lucky?). After the overwhelming experiences of the Baptistery and the David, the Duomo is a little understated, but the size of the building, the wonderful marble floors and the interesting frescos under the dome make it a worthwhile visit.



The interior of the dome of the Cathedral - the frescos tell the same story as the mosaics in the Baptistery. The clock was painted by Paolo Uccello. The painting on the right was a real surprise - this is Dante - you have to look closely - the 'wedding cake' behind him is Purgatory (I think - I read the "Divine Comedy" many years ago and have forgotten a lot). Below Dante's right foot is the "Inferno" (Hell). I can't figure out where "Paradise" is, however, it is interesting to us that in the upper right (as you look at it) corner is Firenze - with Brunelleschi's dome easily recognizable.
By this time, we had had our art fix for the day. Time to go off in search of the replacement shoes for Tom. On the way, we detoured to the Piazza della Signoria. This is the piazza directly in front of the Palazzo Vecchio, or town hall. It is here that the Florentines originally positioned David, but now there is a copy in place. We have yet to go into the Palazzo Vecchio - this is a 'someday' experience for us - we were getting pretty tired by this time. Next to the Piazza is the incredible Uffizi Gallery - we aren't going in this trip - we were there in 2002. It is one of the greatest art museums in Europe and is a sensory overload. However, I took a picture of the exterior of the building (well, actually half of the exterior - there are two wings of the same proportions) just to give an idea of the size of the place. The art inside is exquisite - and it is far more manageable than the Louvre in Paris, which I find overwhelming.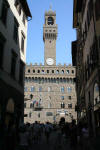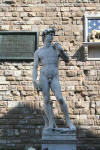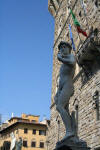 The Palazzo Vecchio ("Old Palace") which is the city hall of Firenze. The David in front is a copy, but is the symbol of the city.

A shot of the Uffizi Gallery - this is one of the two wings. On our last trip here we spent two or three hours, but didn't really see everything.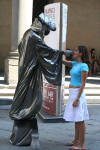 I love these 'buskers' for lack of a better word - they are in the courtyard of the Uffizi. They stand still as statues until you drop a coin in their basket, then they come to life. The first time I saw them, I thought they were statues!
Thursday - September 1 - The Hill Towns of Tuscany
We awoke to the sound of what we thought was rifle or shotgun fire - it may be - this is the first of September and from what we've read, the Italians are dedicated hunters - apparently they shoot everything, which is why there aren't many birds in the country. Could today be the first day of hunting season?
After breakfast we started out on an ambitious day: stops at some of the hill towns of Tuscany and capping the day with dinner in Colle di Val d'Elsa, a hill town we stayed near in 2002 and location of an excellent restaurant, Lo Sfizsio.
Our first stop was Montepulciano. How we love this town - it has the typical steep streets and narrow alleys of the other hill towns, yet there is a charm and ambiance we've not seen elsewhere. It doesn't have the fabulous towers of San Gimignano, nor the dozens of alabaster shops and eerie desolation of Volterra, but it is the sort of place we would happily call home for a few months (except in the winter, when it is sure to be freezing cold). We enjoyed walking around, soaking up the atmosphere, went into a couple of the churches, had a cup of coffee and were ready to go.


One of the several churches in Montepulciano - each contrade has its own church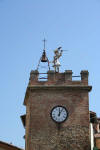 Pulcinella or 'puppet' on a tower in Montepulciano - it rings the hour

This has become somewhat of a symbol for Montepulciano
A little background about some of the hill towns - three of them, maybe more, have a system that dates back to before the Renaissance, called 'contrade' - the towns are divided into neighborhoods which have adopted colors and symbols (giraffe, tortoise, lion, goose, etc.). Each contrada has a church and a social organization. A person is born into, baptized, often marries and is buried in the contrada (at one time, I've read, one didn't marry outside the contrada, today, of course, they do, but there is some sort of protocol regarding which church the couple marries in), The beauty of this system is that crime in these towns is relatively rare - one must not bring shame to the contrada. It is sort of an old form of 'it takes a village' (I prefer this system to the Hillary Clinton version). Montepulciano, Montalcino and Siena all have contrade.
We set off in search of La Foce, the estate developed by Iris Origo and her husband prior to WWII. They bought the estate, which was a derelict, and brought it back to life. In doing so, Iris and her landscape architect created a garden that is supposed to be beautiful. Origo wrote several books - a couple of them are very scholarly, but one, "War in the Val d'Orcia" is her fascinating diary of her days during the war, when she took in a few dozen children who had been evacuated from the more dangerous areas of Italy. She and her husband also helped, to their danger, some Allied soldiers who had been separated from their units and some of the Partisans who were fighting the Fascists. As the Germans were retreating toward the end of the war, and executing their scorched earth policy, Iris, her husband and a few helpers, had to walk (and sometimes carry) the children to safety in Montepulciano - a long distance - while the Germans strafed anything in sight.
We didn't find La Foce - the road is too small and Antonella doesn't know about the estate. Just add another thing to the 'next time' list. La Foce is now an upscale Agriturismo - if we win the lottery, we'll stay there!
On to Montalcino, with a side stop at San Biagio, a beautiful church built in a Greek cross style, somewhat off the road to Montalcino.

San Biagio - a Greek cross church, and Montepulciano in the background
The reason for going to Montalcino is the search for Brunello, said to be the best wine in Italy (that is a bold statement, for Italy is one of the top, if not the top, wine producer in the world). Only wine that is produced in the Montalcino area and bottled according to strict standards, can be called Brunello. A somewhat less expensive red is Rosso di Montalcino, made of juice from the same grapes.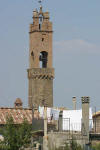 One of the towers in Montalcino - although it wasn't Monday (laundry day) we did see a bit of laundry hanging about
Montalcino is capitalizing on its wine reputation - there are dozens of enoteche (wine shops) where you can taste and buy the wine, and the restaurants all feature Brunello on their wine list. We were surprised at how many Americans there were in the town - and some of them rather annoying and loud. Generally, we have observed that Americans are becoming more savvy travelers and are shedding their 'Ugly American' image, so we were chagrinned to observe some live ones in Montalcino.
We had a light lunch (no Brunello, Tom is driving), then went to an enoteca and tasted the famous wine. It is very full bodied - the type of wine that you sip very slowly and savor. We bought one bottle of Brunello and one Rosso di Montalcino, which we'll save for Sicily when TTS is with us.
This morning we reprogrammed Antonella to speak Italian - she successfuly navigated us to Siena. Just outside, we noticed a large store 'Scarpa Mondo' (Shoe World). At last, Tom found the shoes to replace his Dexters.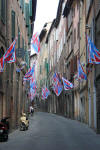 We are in the Leopard contrada of Siena - almost every house displays the flag of the contrada. Next to this window (on the left) is a sconce in the colors of the contrada
Siena is a beautiful city. We were here in 2002, but we couldn't see much, because we were there the week of the famous Palio (I'm not going to take the time to describe the Palio beyond saying it is the craziest horse race in the world. But if you are interested, there is a description in our 2002 journal at http://www.tukatz.com/europe02_colle_di_val_delsa.html. Note that there is no link back so you'll have to use the Back button.). Today we spent a lot of time in the Duomo - the interior is delightful. On display are some of the unique floors - they are marble 'pictures' (the last time we were here they were covered to protect them from the overwhelming crowds). Pictures will tell the story of the Duomo much better so:

This is a novel approach to the always present problem of old buildings in scaffolding - these are 'artist's renderings' of the front of the cathedral of Siena

The bell tower of Siena cathedral

How flattering! The city fathers of Renaissance Siena thought to put my nickname on the step of their Duomo!



These marble floors are unique in all the world - left to right - the she-wolf of Siena, with images representing other towns of Tuscany; the search for knowledge (it's a rocky road, full of snakes and other perils) and the slaughter of the Innocents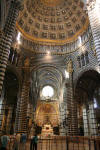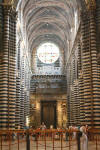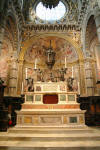 Scenes from the interior of the Siena Duomo

The busts at the top are the various Popes

A window depicting the Life of Mary

Ah, the Torre del Mangia on the Campo in Siena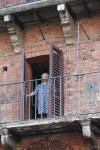 Nonna has a wonderful view of the Campo in Siena - I'll bet she rents this balcony out for thousands twice a year when the Palio is run!

A shrine just at the entrance to the contrada of the snail. The Virgin Mary on the left and on the right a small plaque that says "This is the boundary of the contrada of the snail" (my thought-'tremble all ye who enter here if you aren't of our contrada')
Finally, we drove to Colle di Val d'Elsa. My goodness, the new town has changed a lot. We didn't recognize it. The old town, though, is unchanged and Lo Sfizsio is still in operation. We ate outside (unfortunately, there was a large party - 16 or so - Germans who were there when we arrived, and the waiter was kept busy by them, so service was very slow). We kept dinner simple - the Chef's gnocchi and veal cutlets with mushrooms. Ah, the Chef's gnocchi - it is served with a sauce made from tomato sauce, mascarpone, small bits of sausage and a little oregano leaf. It is wonderful. We will try to replicate it to see if we can come up with the recipe as we've not been able to find anything like it elsewhere, including the Internet.
Antonella guided us safely home and we collapsed - walking around hill towns is exhausting. If we did this every day, I'd be 30 lbs. lighter.
Friday - September 2 - near Firenze
We decided to be bums today - we've left a lot on the plate for future visits to Firenze, but after such a busy day yesterday, we couldn't face another day constantly on the go.
We drove first to Fiesole, on the hills over looking Firenze - I wanted to see this town because it is sort of the Medina of Firenze and is supposed to have some wonderful views of the valley below. Unfortunately, the haze was so great that we really couldn't make out much of the details, and our cameras certainly would not do an adequate job. So we drove to Piazzale Michelangelo for a view of Firenze. We were rewarded for our efforts - we got nice pictures of the Duomo (with scaffolding, but what city in Europe doesn't have at least one major building with scaffolding?), the tower of the Palazzo Vecchio and the Ponte Vecchio. We realize that we are leaving a lot on the table for a future visit to Firenze - the Bargello Museum, the Pitti Palace, the Science Museum, several churches

Firenze - what more needs to be said?
From left to right - the Ponte Vecchio, the Palazzo Vecchio, the Duomo and a close up of Brunelleschi's dome
We returned to Pontassieve, had lunch, bought a few groceries, returned to our digs, and were bums in the Tuscan sun (including a dip in the pool, which is above ground and a bit 'brisk' but nice once you get in).
Tomorrow we drive to Roma for what will probably be a very full week - it has been about 30 years since we've been there, so we fully expect that things we saw last will be unfamiliar to us.
Return to Toscana? Oh, yes! We really love this region and we've never managed to see all there is to see - La Foce, much of Firenze, beautiful Lucca. It makes us sad to leave, but.....someday we'll be back!