A Week in Western Sicily
Saturday - September 17 - Sorrento to Sciacca
We knew that today would be a long day driving, but we hadn't accounted for all of the road construction in Southern Italy. All-in-all, various road projects delayed us an hour or more.
We've never been south of Sorrento before and had some preconceived notions about what we would encounter. This part of Italy is called the 'Mezzo Giorno' (mid-day) for some reason, and there have been immense problems of poverty and corruption for hundreds of years. We envisioned that the roads would be bad and there would be people trying to hustle Euros everywhere. The roads were good and will soon be a lot better once the construction is complete (this might be a giant highway bill, Italian style, to bring employment to the South). The scenery was much greener than I had expected - I thought it would be barren and rocky and look more like the American Southwest. It was very hilly, so much of the land is not arable. There were many little hilltop villages along the way, which I had not expected.
We stopped for a bite and petrol and had no problems - we didn't feel like we had to guard our car and double count our change.
Eventually we made it to Villa San Giovanni, where we were to catch the boat to Messina. I hadn't realized how narrow the strait between Italy and Sicily is - assuming you could dodge all the boat traffic, a strong swimmer could easily swim the strait. It is a very busy strait, though, so swimming probably isn't advisable.
We did encounter a little hustling while buying our ticket. Tom pulled up to the ticket office and a man came up to the car and asked "English, Italian, French, German?" (meaning language). Tom told him Italian, so he gave us instructions on buying the ticket. Meanwhile, another man washed our windscreen, which was in real need. We bought the ticket, the first man checked to make sure we had bought the right one, then asked for some change 'per il mio caffe'. Tom gave him some change and the windscreen washer a bit.
We loaded immediately onto the ferry, made the crossing and were offloaded in around 45 minutes.

Villa San Giovanni from the ferry

The Straits of Messina from the ferry
The traffic in Messina was pretty bad, but it was mostly ferry traffic, which included several large trucks. However, we set a course for Sciacca and Antonella dutifully started navigating.
Sicily is actually close to what I had expected - it is very dry, there is a lot of agriculture (vineyards and olives), some cities, which are a bit crumbling and, outside the cities, the traffic isn't too bad.
There is autostrada part of the way to Sciacca, which is on the west coast of the island. We followed the autostrada, then resorted to highways. Since it is Saturday, and the stores would be closed tomorrow, we stopped near Agrigento and did our grocery shopping to get us through the weekend.
Usually we shop in supermarkets because we haven't yet stayed in a village where we knew which produce seller, butcher, etc. had what we wanted. In all the supermarkets we've encountered in Italy, until this one, you put a one Euro coin in the shopping cart to release it from the queue - you get the coin back when you lock the cart back into the queue. This market didn't have that kind of contraption - rather the carts were unsecured. We actually like the secured type, because you don't see shopping carts at bus stops or in ditches and parking lots in Italy.
In other supermarkets, we have learned that you put on plastic gloves (provided) before selecting your fruit or vegetables, then weigh them and punch in the number that corresponds to your purchase. A bar-coded label is printed, which you attach to the plastic bag for your purchase. In this market, there was a man who selected your produce for you, weighed and ticketed it. It gave me more opportunity to practice my Italian. I did pretty well, except that green beans are 'little beans' (fagioli piccoli) in Italian.
We stopped at the delicatessen area and bought some pecorino (sheep's cheese) and had to specify that we wanted fresh instead of dried (you would grate the dry, nibble the fresh), a chunk of pancetta (Italian bacon) and some grated parmesan (which Tom asked the man to grate for us). We wouldn't have had the knowledge or courage to do this three weeks ago.
Tom called our hosts, Franca and Alberto and told them we'd be later than the 5:00 we had planned and that we'd call them from Sciacca. We continued our route - Agrigento is known for Greek temples. We've read that there are more Greek temples here than in Greece. We saw a couple of them from the highway - both enveloped in scaffolding. Hopefully they are the only two under restoration!
Once we got to Sciacca, we called our hosts and they came down to lead us to the cottage where we are going to be staying for the next week. Sciacca was really busy - lots of traffic, people 'parking' their cars with half of the vehicle sticking into the street, thereby narrowing the traffic lanes. Franca and Alberto showed up on their motorino and we followed them out of the town, up into the hills, then down a little dirt road to Carrubo Country Cottage.
This is a wonderful little cottage, clean and modern. It has one bedroom, a bathroom with a shower, a little laundry room, living room and kitchen. It has a veranda that looks west - Franca said in the evening the sunset is spectacular. The kitchen is well equipped and there is, by Italian standards, reasonable counter space. The veranda has a table and chairs and a little settee.
We got settled in and I cooked dinner. I had purchased some chicken thighs that were boneless, rolled and tied. They were filled with bacon fat and sage - after they cooked, we discarded the fat, but the smoky flavor was imparted nicely to the meat. I had also purchased some gnocchi and a four cheese sauce, and I made a salad. What a pleasant meal out on the veranda!
A few years ago, Italy was invaded by a particularly vicious breed of small mosquitoes from Asia. They wouldn't be quite so bad except window screens in Italy are the exception rather than the rule. The Italians deal with the pests with an insecticide that plugs into an electrical outlet, or they burn coils of Raid. All that said, the treatment isn't all that effective and we had to spray ourselves with Off before we were able to get some sleep.
Sunday - September 18 - A lazy day at the cottage
The wristwatch alarm went off at 6:30 - really must remember to turn that off. A little later we got up and had breakfast on the veranda. It was incredibly pleasant. There was a light breeze and the temperature was perfect. We had discovered a clothes washer and decided to just stay around the cottage for the day and get our laundry done. A daylight inspection of the property failed to turn up a clothesline (seemed very odd) so we improvised using a device we found in the laundry room.

The view from the veranda - including part of our laundry

Our cottage as seen when coming up the drive

The front of the cottage and the veranda - our bedroom window is to the left, the kitchen is left of center, and the living room is to the right
While we were sitting on the veranda, a very different butterfly flew up and landed on the Bougainvillea. Neither of us had seen anything quite like this before. The shape and the wing pattern were fascinating.

The very different butterfly on the Bougainvillea
Eventually we figured out how to string the clothesline. It was quite breezy and we were able to get all our laundry done, although a bit of it did not quite dry fully by the end of the day. During the day we lazed around on the veranda, soaked up the sun, and watched a brush fire across the road to the west of us. It was never clear whether it was an accidental or a planned burn. It did seem to sort of get out of control and, late in the day, we could see a man trying to put out part of it that appeared as if it might threaten his home. It finally died out, but not before blackening a large field and hillside.

Note the burned field as compared to the view from the veranda above
Mel had gone through the Cadogan Guide to Sicilia and we made a list of the sights we wanted to see this week, and the week that TTS will be with us when we will be staying near Catania. By then it was time for dinner, the sun was heading for the horizon, and the bottle of very inexpensive Sicilian Vino Rosso had been opened and pronounced quite drinkable.
Monday - September 19 - Sciacca and the Valle dei Templi
We chose to stay near Sciacca for several reasons - it is close to Agrigento and the Valle dei Templi (which we visited today), Trapani, Enna, nice beaches and a day trip to Palermo. I think we are pleased with our decision, for the roads are good and the traffic fairly light.
Our day trip to Valle dei Templi was very interesting. Sicilia has more Greek temples than Greece, and they are said to be generally better preserved. The Valle dei Templi isn't really a valley, but is a chain of hills, along the spine of which are several Greek ruins. Most of the artifacts are in the Museum at the foot of the hill leading into Agrigento. This was our first stop.
The museum is deceptive - when you first walk in, you think it is rather small, but it is actually very large, with huge rooms devoted to displaying the artifacts found in Sicilia. At one time, Sicilia was more Greek than Greece and the artifacts that have been uncovered are amazing - vases, statues, plates. I will admit that after 25 or more priceless, unique Greek vases, one becomes a little jaded. A couple of plates stick in my mind - they were for serving fish, so were decorated with fish. In the center of each was a little indentation to hold the sauce in which the fish was dipped. The sauce was made of putrefied fish guts. No wonder the Greeks lost Sicilia!
We also had to smile at the 'Greek pornography' - Tom said that some of the men depicted on the vases must have answered the e-mails for methods of enlarging their penis. Others had couples engaged in some very creative, if athletic, sex.
After 1 1/2 hours in the museum, we were ready to tackle the ruins themselves. They are spectacular, but it takes a lot of imagination to envision what they must have been like 2,500 years ago when the Greeks occupied Sicilia. This is another UNESCO World Heritage Sight, and rightly so.
Our first stop was the Temple of the Olympian Zeus. It is pretty much just ruins. One of the features that you can see is a replica of a telamone. These were part of the structure of the temple - enormous men who held up the roof. The telamone replica was laying down - it is at least 20 feet tall.

Temple of the Olympian Zeus with a telamone
Nearby are the ruins of the Temple of Hercules. The eight standing pillars are pretty impressive - they were erected in the 20th century from ruins found on the site.
The Temple of Castor and Pollux is off in the distance. There are some beautiful pillars remaining, but the rest of the site is in ruins.
The most impressive site, claimed to be one of the best preserved Greek temples anywhere, is the Temple of Concord. It sits atop a hill, overlooking the sea - I imagine that sailors could have seen it when they were coming into the harbor. Like the rest of the ruins, it is made of limestone, not marble. The guidebook says that when it was a Greek temple, it was covered in a plaster made of marble dust, so it looked more like the temples we are accustomed to seeing - white and shining (sort of like you expect a bank to look). This temple was converted to a Catholic church somewhere along the line, therefore, it is better preserved than the other ruins. Nonetheless, it is surrounded by scaffolding. However, given that it is 2,500 years old, it is still pretty impressive.
As expected, it is pretty hot in Sicilia, although not as humid as Sorrento, so we aren't finding it quite as tiring. But 5 or more hours on our feet took its toll and we were grateful to get into the car to head back to Sciacca. We had shopping to do.
It is about a 45 minute drive back to Sciacca. We went into the old town, which is quite attractive, especially compared to the new part of town, which is terribly ugly. We walked around a bit, then got back into the car to drive to the market. Shopping completed, we headed back to the little cottage and had dinner.
A few words about Sicilia. This is our first trip here. There are beautiful sights, grand scenery, ugly towns mixed in with pretty ones, and evidence of poverty in the cities - tenement type housing in poor repair, rubbish and graffiti. Once immensely prosperous and cultured, over the years, Sicilia has suffered one misrule after another. Additionally, there have been wars of untold numbers, because of the strategic location of the island. During WWII, the Germans occupied Sicilia, and the allies freed it, but the cost was pretty high (it took about two months to oust the Germans). While everyone has heard of the Mafia and its roots here, we have not, and probably will not, see any evidence of that organization. Mussolini tried to wipe out the Mafia, but after the Germans were forced off the island, they left a vacuum, which the Mafia filled. Attempts to clean up the government have met with mixed success, from what we read. Sadly. illiteracy is still at about 15% and unemployment is higher than the rest of Italy. My guess is that the combination of high unemployment and illiteracy probably mean that the Mafia will continue to have a hold on the island.
Tuesday - September 20 - Sciacca to Erice
What is the saying about 'the best laid plans of mice and men oft gang aglee' (or something like that, with apologies to Robbie Burns). I was the first to shower today and somehow managed to use all of the hot water, so Tom had to wait for the water heater to refill and reheat - as a result, we didn't leave for Erice until close to 11:00.
We thought the route would be fairly straightforward - we took the S115 (an S road would be equivalent to a state highway in the US) west past Selinunte and then north. We didn't realize that S115 passes through the famous wine town of Marsala (as in Veal Marsala). We got to Marsala about 11:45 but didn't get out of Marsala until close to 1:00 - it was just excruciatingly slow all the way. There weren't huge traffic jams, just slow traffic, farm vehicles (the grape harvesting season is beginning), narrow roads and incomprehensible routes. We had planned on visiting Trapani, on the water below Erice, as well, but our experience with Marsala told us to forget that idea. We programmed Antonella to take us to Erice - it turns out that she thinks Erice is in the middle of Trapani - she took us to the Hotel Erice. Basta! Enough! We were really hungry by now - it was close to 2:00 and our muesli and yoghurt had long since worn off. We fooled Antonella into taking us to the town next to Erice, which she did quite happily. It turned out that she is programmed to recognize Antica Erice ('old Erice') as the town, Erice as the hotel.
We followed road signs to Erice which is high above Trapani on a rocky hill with a magnificent view of the Mediterranean and the surrounding countryside. Erice is quite a tourist destination now - it is the prettiest hill town in Sicilia and is a beautifully preserved medieval town. The city fathers have tried to insure Erice's future by building a science complex, where scientific conferences are held.
It was at least 2:30 by now and we were really hungry, so we parked the car and set off in search of lunch. It took a while, with some steep climbs up the cobbled streets in the town, but we found a self serve place and enjoyed arancini, which are rice balls with filling (mozzarella and prosciutto in this case), which are dipped in bread crumbs and fried. I'm not sure if they tasted so good because we were so hungry, or if they would have been as good on a less empty stomach. But we did enjoy them! We each had a little sweet made of marzipan (almond paste) for our treat for waiting so long for lunch.
After lunch, we strolled through the old town. It is really beautiful, well preserved and clean. It has several churches, with towers that look distinctly Arab, for Sicilia was occupied by the Arabs for many years. We were glad the guidebook recommended bringing warm clothing, for the altitude of Erice is high enough that the wind coming off the sea is pretty cold, even in September.
The alleyways in the town, called vanelle, rival the snickelways in York for narrowness, and every so often, you can peer into a little courtyard filled with flowers. It really is a delightful town for an afternoon excursion. I'll bet in the winter it is cold and damp! We were really glad we visited this town - it makes up for the crumbling towns we've been seeing in Sicilia.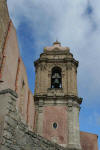 Bell tower on one of the many churches in Erice

How would you like the job of driving this dump truck through these very narrow streets?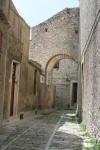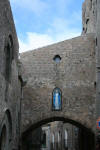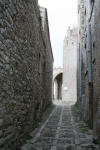 "Vanelle" are little alleys in Erice - rather like the snickelways of York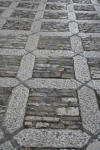 We loved the pavement in Erice - it is beautiful, but not particularly easy to walk on. I thought of the long legged beauties you see all over Italy who invariably are wearing stiletto heels and wondered how they would fare on this surface. Heaven forbid you should not cut a bella figura in Italy - they would suffer through the discomfort as long as they were bella figura.

These little fruits are actually candy made of marzipan

This cross is perched on a hill overlooking Trapani

I wasn't sure what this way - the plant looked like a palm, the fruit looked like olives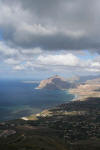 A view from the road between Trapani and Erice - the Golfo di Bonagia

Sicilia has viaducts that are beautiful and graceful - this is one of many
We were determined not to return by way of Marsala (and there don't appear to be any side roads to avoid Marsala) so, we headed east, toward Palermo, then south. As it turned out, it was about the same distance as our morning route, without any major city in the way.
We have been searching for a coffee maker of some type so that we can make 'American' coffee, which the Italians hold in great distain. They think our coffee is weak stuff that isn't worth the time of day. We've been using the little Italian coffee maker in the cottage, but one pot only makes two cups of extremely strong coffee - not quite espresso, but close to it. We spotted a large store that specialized in home furnishings - sort of a Sicilian Ikea. They didn't have an American style coffee maker, but they had the darnedest collection of 'stuff' we've seen in a long while - posters of paintings from the Sistine Chapel, a sofa in bright yellow fabric, generators, bathroom scales and lawnmowers. It was interesting looking at the assembled jumble.
Our next goal was to find basil and zucchini flowers. We stumbled across the wholesale fruit and vegetable market. Sicilia is like many places in Europe in that the fruits and vegetables available are only those that are in season - no nectarines from Chile in the winter. Either zucchini flowers are out of season or they don't eat them here, for our inquiries in the market, and the subsequent inquiry I made at a fruttivendolo (fruit seller) were met with puzzled expressions. A nice man in the wholesale market gave us a bunch of basil and wouldn't accept payment.
Upon returning to the cottage, we spied a healthy sage plant, next to the rosemary plant in the back of the cottage. I've just come across a recipe for veal cutlets in sage sauce and we just happen to have some veal in the fridge, so, maybe tomorrow.....
This day I did things in the Renault that even surprised me. I drove (and parked) more 'Italian' than ever before, even when in Roma. If you venture into Marsala and Trapani in a car, you may emerge sometime during your lifetime. To do so and emerge in an hour or so you must have a little bit of courtesy (that you dispense in small doses, sometimes involuntarily but smiling all the while) and big ba..s of steel that will be your only salvation when none of the other drivers seem willing to part with any of their courtesy. I was reminded of the automobile commercials showing professional drivers on a closed course with the admonition 'Don't try this at home!' I am not a professional driver, but for readers of this journal I would repeat, 'Don't try this at home!'
Wednesday - September 21 - Sciacca to Selinunte
We sense that autumn is approaching - while it is still warm in Sicilia (high 70's, low 80's) it takes longer for the day to reach the high temperature, and it cools more quickly. However, short sleeve blouses, shorts for Tom (most women over 35 don't 'do' shorts in this part of Europe) are the order of the day. We still have our meals on the patio overlooking the little valley and have windows open until late at night (and make sure that the mosquito contraptions are in working order!).
Sicilia isn't an easy place to get to know. Unlike Roma, Toscana or Sorrento, the best sights have to be sought after. In other parts of Italia they are in your face. Here, you have to search them out, sometimes traveling through some spots that aren't all that desirable - rubbish, graffiti, poverty. However, when you take the time, you can find some places that are unique - beautiful, historical, remote, one-of-a-kind. Today we found Selinunte.
This former Greek colony isn't that far from Sciacca - maybe 30 miles. For some reason, it hasn't been declared a World Heritage Site, but it should be. It has one of the most perfectly preserved Greek temples in the world. What a sight it must have been when it was intact, glowing white. There are several ruins on a fairly large sight - three temples, named for some strange reason E, F and G. E is the temple most intact and the one that we photographed the most. We spent a few happy hours just wandering around. Although there were the predictable tour buses disgorging their passengers, the place wasn't overrun with camera toting tourists obscuring the view (obviously, we aren't part of the camera toting tourists). We were able to get some nice pictures of the complex (which is enormous) and spend some quiet time, just soaking up the beauty of the spot.

Temple E - what an insignificant name for such a magnificent spot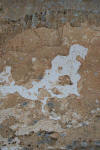 I focused in on one column to capture a bit of the marble stucco with which this temple was once covered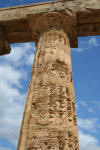 These are all shots of Temple E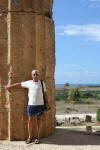 The columns of Temple E are huge - Tom can barely stretch his arms around 1/3

My best shot - Temple E with other ruins in the foreground

Off in the distance, Temple C - more ruined than Temple E, closer to the water, going through restoration




These are shots of Temple F and G - they are right next to Temple E - they fell into ruin over the years - earthquakes, fire and other disasters brought them down. We were particularly fascinated with the whole mechanism of constructing the columns - the incision in the third photo is typical - they must have used a system not unlike Legos or Lincoln logs to hold the works together.


Nature cannot be defeated - one of the hundreds of geckos (or are these chameleons or salamanders?) who live on the grounds. And a little pine seedling has taken a stance on one of the columns - years from now, what will remain of the column?

Now for some modern day humor - this car was outside a souvenir shop near Selinunte
By the end of a couple of hours walking around this place, we were tired, and hungry - we asked Antonella to take us home, where we had lunch and were bums in the sun for a while. Then phase two of our adventure for the day.
We needed to find an Internet Cafe. This morning, before going to Selinunte, we stopped at the local Tourist Information in Sciacca to inquire. This is the first "TI" I've ever encountered where the staff spoke no English. Tom was in search of a parking spot (rare commodity in towns in Italy) and I was left to do the inquiries. Somehow, with my fractured Italian I found out that there are two cafes in town. We went into town and found one. No English there, either - 'wireless'? Come? Senza cable? Come? Ah well, we were able to check e-mail and finances using their computers. I've been a bit concerned as we've had voice mail messages on our mobile, but haven't been able to retrieve them, but I figure that if anyone needs us, they'll send an e-mail as well as a voice mail.
Next, we decided to 'troll' Sciacca for a wireless network. We found several unsecured networks, but weren't able to connect.
We stopped at an enoteca (wine shop) to see if we could get a bottle of wine. This was really interesting! In addition to wine by the bottle and glass, they sell wine by the liter, you bring in your own bottle. While we were there one fellow brought in his liter water bottles for filling - less than 2 Euro per liter. Who knows what the stuff is like? It may be the Sicilian equivalent of Thunderbird, but it may be pretty good.
We returned to the cottage, and Tom caught the photo below. What a glorious sunset!
Dinner was chicken breast in lemon, a standby from home, and a new recipe from the cookbook from the cooking school - eggplant in small slices, with bits of fresh mozzarella between, the 'sandwiches' fried with a crust of flour, egg with parmesan, and breadcrumbs. Two years ago Tom would not eat eggplant. I was delighted that he found this concoction 'pretty tasty'.
Tomorrow will be another adventure - we are going to Palermo. We know that we haven't allotted enough time to this city, so we are going to do and see what we can and put the rest back on the table for 'someday'. If we live as long as our travel plans call for, we'll be about 108 when we finally give up traveling.
Works for me!!!
Thursday - September 22 - Sciacca to Palermo and return
We certainly know that we have been somewhere today! We've been having trouble trying to imagine what Palermo is like, never having been there before, and not having a description from anyone about what to expect. We've read the guidebook, but the places to see and things to do are so numerous that we've gotten bogged down in it all. We decided that today we will make a first skirmish into the town to get the lay of the land. Once TTS comes to Sicilia, we'll go back into the town with a little more knowledge.
Palermo isn't all that far from Sciacca - less than 100 km. and the road is quite good. The scenery is beautiful - rough, rocky hills, rich vineyards and abundant olive groves. Palermo, being a port, sits at the foot of the hills - the descent into the valley is pretty, but not awesomely beautiful. Traffic is fairly typical for Sicilia - lots of motorcycles and motorinos (scooters), narrow streets, cars double-parked and general chaos.
We decided to park near the railroad station - there is a Tourist Information there and we needed a better map than the one we had. Antonella navigated us there without a problem, although we had a little difficulty finding a parking garage. Cadogan recommends parking in a secure garage - theft being a problem in Palermo.
We got a map from an unsmiling woman at TI, who either wouldn't or couldn't speak English. We headed off toward the Cathedral since it was a long enough distance to help us get the lay of the land, while not so far that we would be exhausted upon our arrival.
Palermo is noisy and dirty - it is probably the most exotic city we've even been to, in that it has the appearance of something in the Middle East. There are a lot of Catholic churches, and many squares with statues of saints, but the pace and noise made us feel as if we were far removed from Europe. Frankly, walking around was exhausting - it was a bit muggy and we had to be constantly on our guard whenever crossing at an intersection. By the time we got to the Cathedral, we were ready for a break. We stopped at a Bar, thinking we'd get a panino and beverage, but the fare wasn't that appealing, so we decided to see the Cathedral, then find a relaxing place for lunch.
The Cathedral is very unusual - it does look partly Arab, partly Baroque. Cadogan says that the dome, added many years after the original construction, is like a bunion on the building. Well, it does look like something added on centuries after the original construction.
Inside, the Cathedral is relatively austere. There is a fresco under the dome (we couldn't get close enough to see it) and the altar is rather plain. The richest feature is the reliquary of St. Rosalia, the patron saint of Palermo. The reliquary is supposed to contain the saint's bones. Cadogan says that scientists have examined them and proclaimed them 'goat's bones.' Saint or goat, the reliquary is about as ostentatious as they come, made of silver with lots of rich decoration.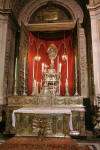 Reliquary of St. Rosalia or a goat, depending on who is writing the story
There has been a church on this site for hundreds of years - going back to Byzantine times - there is a Madonna over one door that is said to come from the original Byzantine church, which would make it around 1600 years old.

Byzantine era Madonna above the door to the Cathedral

Above the portico on the Cathedral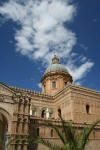 Dome on the Cathedral added many years after the original construction


Shots trying to get the whole building
Cadogan had a restaurant recommendation on the same street as the Cathedral, so we set off in search. As it turned out, it was many blocks in the direction we had come, but it put us close to the area where we had parked the car. We had a nice lunch, albeit a bit late. It was fancier than we've been accustomed to, with white table cloths and cloth napkins, but we enjoyed it.
Nearby is one of the many outdoor markets that dot Palermo. Because it was late in the day, most of the stalls were closed, but enough were open that we got a flavor for what you can buy at this market - fruits, spices, meat, cheese, clothes, CDs. I'm hoping that when we come back we'll be able to explore some more of these markets in depth.
Palermo has a rich tradition of marionettes or puppet shows. I'm hoping that we'll be able to go to the puppet museum and take in a puppet show (which will be in Italian, but hopefully not dialect!)
We walked back to the car and made our way out of the city. By this time the car needed petrol. The first place we stopped was closed. We were getting a bit worried, for gas stations seemed few and far between. We got off the highway and drove to a good sized village. We didn't see any station - we drove right through it and back into the countryside. There were three men standing by their cars outside the village. Tom stopped and asked, in Italian, where he could buy 'benzina'. His accent is too good - they simultaneous launched into an explanation in rapid fire Italian. Too fast for us, but we understood that there was a station in the village or Palermo (which was further than we had range). Tom turned the car around and we headed back to the village. Since my accent is pure American, I told Tom, let me ask, maybe we'll get directions more slowly. Sure enough, when I asked a man and woman outside a bar where to buy benzina, the man gave instructions in Italian, but the woman came up to the car, said "English, no?" and gave instructions in English. There is something to be said for being linguistically challenged!
We found the station, Tom enjoyed conversing with the attendant in Italian, then we headed toward Sciacca.
Each day we see more evidence of the grape harvest. We aren't sure if the grapes are for wine or table grapes. Little Apes, loaded to the hilt with grapes, chug up the hills, frequently tying up traffic. The grapes are enormous - nearly the size of plums. There are both green and purple grapes, and you see vendors selling them along side the road. It is also melon season. The fields have hundreds of yellow melons laying on the ground - the vines appear to be dead. On the highway you pass trucks carrying hundreds of melons and the fruit stands are jammed with the yellow fruit.
The other fruit (or vegetable) we are seeing are what we guess to be prickly pears. There are a lot of cactus on Sicilia, and the plants are laden with the fruit. We saw some at the outdoor market today, peeled (much more appetizing than the unpeeled variety, which I am sure are full of thorns). Since I have no idea how one prepares them, I haven't bought any - I don't know if they are eaten raw or cooked, sliced, sweetened, chilled....and I don't have any preparation instructions.
Time has passed so quickly - tomorrow we will explore Sciacca a bit and pack up for our next destination. We are looking forward to TTS coming here on Saturday - he's a good traveling companion and an interesting conversationalist.
Friday - September 23 - Sciacca
We were bums today. We can feel fall coming on and wanted to have as much sun as possible, as well as clean clothes and a clean car. We were glad that the cottage has a washing machine - it is a typical European front-loading machine - slow - it takes 1 1/2 hours to do a small load. If we had to use this on a regular basis we'd be pretty cross. But, we don't have towels and bed linens to wash, so this will do.
The vendemmia, grape harvest, is in full swing. There is a small vineyard on the hill below the cottage and all day long a crew of men were harvesting the grapes. We learned from Alberto (see below) that these grapes are wine grapes.

The vendemmia in full swing - these men spent the day harvesting the hill below the cottage
We needed to upload the journal, so we loaded the computer in the car and went trolling, hoping to find an unsecured wireless network. Alas, no luck. We did find a recommended restaurant, Il Faro ("The Lighthouse"), down in the port, and their menu looked good, so we decided to come back for dinner later in the day.
I can't say that Sciaccia is a pretty town - it has spots of beauty, but other spots that are rather dilapidated as well. We liked the steps around the 'Naval Society' headquarters - I think this is like the Seamen's Club in Seattle.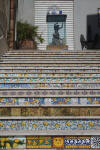 Steps next to the Naval Society - these look very Arab to me
We called Alberto to make arrangements to pay the 'rent' for the cottage for the week. He and Franca (who owns the cottage) came over around 5:00 to collect. We enjoyed talking with them - they were kind enough to let us speak Italian as much as we were able, which is a great help. They weren't shy about correcting our mistakes, but kindly. They also told us a little about Italy, including things about dialect. On Sicilia there are several dialects, not surprisingly, and young and old speak dialect in their homes. The language of the upper classes and TV is the Roman dialect, not the Tuscan one, which I had always thought was the more upper class dialect, since it was the language of Dante and Bocaccio.
When dinner hour rolled around, we drove to the port. Il Faro is a trattoria, a family run, modest restaurant, with paper table cloths and simple furnishings. The attraction is the seafood, which is fresh - while we were there, one of the fishermen brought in a box of fish, presumably fresh from the boat today. We haven't experimented much with Sicilian food, so we tried to venture a bit beyond the normal.
I had an antipasto of eggplant, capers, celery, olives all cooked in tomatoes and wine. It was wonderful - spicier than the food we've encountered thus far, a reflection of Sicilian cooking.
My primo piatto was farfalle in a sauce made with artichokes accompanied by a few shrimp. Like the antipasto, this was excellent. My secondo piatto was a couple of small pieces of sea bream. I didn't eat all of the antipasto and primo, so didn't feel 'stuffed'.
Surprise - the bread was quite good. Given how terrible the bread has been, this was a pleasant surprise.
Tom had a nice piece of swordfish, grilled with a bit of olive oil, some fries and a green salad (health food?) - all excellent. We shared a bottle of Sicilian Chardonnay, which was quite good and topped it off with the ever present espresso.
We arrived at the restaurant at 8:00 p.m. and were the first diners. By the time we were finished with our dinner, close to 10:00, the restaurant was in full swing. I'm not sure we'll ever be accustomed to meals that late!
Family owned? Ah, yes - the father and son waited tables - that is, the son hustled around and the father watched the Italian equivalent of "Funniest Home Videos". We got a kick out of watching the father belly laugh at the typical slapstick humor.
Coffee in Italy is so different from that in the States - they think we drink ours far too weak, and for the Italians, coffee is a sort of a ritual. Apparently, no Italian would drink a Cappuccino after about 10:00 a.m. and all Italians have a small shot of very sweet espresso after their meals. We like the espresso, although we don't drink it as sweet as the Italians, and we regularly commit the faux pas of drinking Cappuccini after 10:00 a.m.
Tomorrow on to Valverde, near Catania, and TTS will be joining us for two weeks. We are looking forward to it.