Nine Days Touring in Normandy, the Loire and Provence
Thursday - August 18 - Paris to Honfleur
Douglas picked us up at the hotel after he dropped TTS off at the the RER. Another wonderful breakfast on the Hallawell terrace. Then Douglas took us to the Renault EuroDrive office.
Tom discovered this Renault EuroDrive arrangement in 2002. Briefly, we 'buy' the car of our choice from Renault for a specific number of days - at the end of the period we 'sell' it back to Renault for a set price - the difference between our purchase and sell price is the cost to us (which is all we put out - we do not have to front the entire purchase price). The period is a minimum of 17 days and a maximum of approximately six months. The car comes very fully equipped, except we cannot specify color, and is fully insured for both drivers (unlike rental cars). Tom will describe the car a bit below, but let it be said that we are both really impressed with it - it is a wonderful vehicle for a six plus week tour of Europe.
Car retrieved, we drove, by aide of Yvette, also described below, to Honfleur. This is one of the prettiest towns we have even seen anywhere. Although relatively close to the Normandy beaches, it escaped the damage from that conflict. Below are random pictures of the town.

The Pont Normandy - links Honfleur and La Havre

Look closely - there are two cats on the roof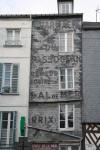 Look closely - this shop is advertising cures for Mal de Mar (seasickness)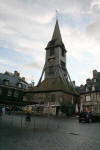 Bell tower on the town square of Honfleur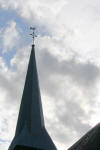 Typical of Norman churches - a ship - or is it a cockerel atop the steeple?
Our lodgings were recommended in Rick Steves' France book. We no longer buy his books because we don't like his political commentary, but we aren't above going to Barnes and Noble and making note of his recommendations. We have a really nice room in a B & B very close to the center of this beautiful little town - it is one of the nicest rooms we've ever had - called la Couer Ste. Catherine. The thing that is especially nice about this B & B (other than the size and location) is that this is a collection of very old buildings that the owner has converted to a B & B without destroying the ambiance.

Look closely - there's a pumpkin on the roof
We had a fairly decent dinner in town - nothing special, then returned to our B & B for a peaceful night's sleep.
Friday - August 19 - Honfleur to Bayeux and Normandy Beaches
I must start with a description of the Renault Laguna. This is a four-door hatchback (although the hatchback is just roof line rather than a box) about Honda Accord size. It's a quite attractive body style and is very well equipped. Seating is very comfortable and front bucket seat lateral support is very good, handling is quite good and ride is very nice, and it is fairly quiet. Interior space and luggage capacity are both very good. Performance from the 16 valve 2.0L engine and five-speed gearbox is pretty spirited. The car has quite a list of safety and convenience features and would likely be a strong seller in the U.S. if it were imported. It has power exterior mirrors (including foldback feature), power windows, tilt and telescope (manual) steering wheel, dual-zone climate control, trip computer, and rain-sensing windscreen wipers. But the thing we have appreciated most is the GPS navigation system which we have named Yvette because the voice is female.
The nav system covers a number of countries in Europe. You input your destination and Yvette prompts you for all the turns, roundabouts, etc. Today we decided to visit Camembert after having seen the Normandy beaches. Yvette led us on a tour through the French countryside on roads we would never have considered driving with a standard map. As long as we trusted her, she led us unfailingly along roads the British would call 'unclassified', and when we doubted, she adjusted to get us back on course. The display is excellent and the voice prompts are clear. We'll undoubtedly have more opportunity to comment on Yvette as we travel down into Italy. Suffice it to say, I would buy this car at the right price.
After breakfast, we drove to a couple of shops to pick up lunch supplies - one thing very easy in France is finding little bakeries and delicatessens, so putting together a cold lunch is simple. We also discovered a small 'supermarket' where we picked up a few more supplies. Then, on toward Bayeux and the Normandy D-Day Invasion beaches, west of Honfleur.
Our first stop was the museum in Bayeux, which has the famous Bayeux tapestry (which isn't a tapestry at all, but an embroidery). I remember learning about this when I was in college - it depicts the events leading to the Norman invasion of England from a Norman point of view. The museum is very well done - there is a replica of the tapestry with written explanations of what the figures represent, the a film (can be seen in either English or French) describing the events leading to the invasion, and finally, the opportunity to view the tapestry itself, while listening to an audio guide. The tapestry is over 70 meters and starts with Harold (before he was king of England) going to Normandy to meet with William, and ending with William being crowned king in Westminster Abbey, Christmas 1066. Without the background the explanations, the tapestry wouldn't be particularly meaningful, but the museum curator has done a wonderful job setting the time and place. The little town of Bayeux is very pretty and we would have liked to spend more time in it, but we also wanted to go to the D-Day beaches. We have decided already that we need to come back to Normandy and spend more time here.
Our next stop was at the American Cemetery at Omaha Beach. It is very well maintained by the American Battle Monuments Commission, an agency of the Executive Branch of the United States government - the grounds are immaculate. It has been given in perpetuity to the American government by the people of France. How many times we have seen the stark white crosses, placed so symmetrically, yet the full impact doesn't hit you until you walk among them, or walk along the wall of remembrance and read the names of those buried there. Thankfully, the grounds are peaceful, and the people, for the most part, very respectful. The site overlooks the invasion beach - those poor men were easy targets for the Germans - the beach is wide open.

The American Cemetery at Omaha Beach
We next stopped at a little invasion museum. The most interesting part was the newsreel like footage of the invasion - with background music of Beethoven's 9th Symphony! The music fit the film, but seemed somewhat ironic to us since it was composed by a German.
We wanted to go to the area where Camembert cheese is made, so put instructions into Yvette. She directed us to some fairly obscure backroads - through small villages and through farm land. It was really pretty. We were a bit late, so didn't have the chance to stop at any of the farms, but we thoroughly enjoyed the drive through the countryside.
Back in Honfleur and time for dinner. The restaurant we wanted to go to was full - they weren't taking any more customers, so we selected a restaurant at random - we selected Les Boucaniers on rue Haute. It was a terrible mistake. Although initially we were greeted by a friendly enough staff member, our waitress (although young) was a throw back to the old days when a French person would not speak a word of English no matter what. We tried to communicate to her in our battered French and she rapid fired back responses - with no smile, no attempt to meet us even 1/4 of the way. We both ordered grilled duck and the meal was mediocre for me, and terrible for Tom - it wasn't cooked enough. Then whole experience put us off - we have heard so much about how rude the French are, especially to Americans, and we have not had any really bad experiences until this. We'll be putting the name of the restaurant in the Slow Travelers website, and the Rick Steves graffiti board!
Saturday - August 20 - Honfleur to Meusnes (in the Loire Valley)
Rain! Darn. Our hostess assured us that it would end by the afternoon. Before checking out, we walked to the town center for the open air market - because Honfleur doesn't have a large market center like typical English towns, the booths are set up all over - those vendors selling clothing in one part of town, those selling food in another. We bought some cheese, fresh raspberries and strawberries and some cherry tomatoes. Then, packed up the car and headed out - our first destination was Mont-Saint-Michel.

Mont-Saint-Michel from Avranches - we'll come back, someday
Ah, the best laid plans of mice and men. We hit some fairly severe traffic about 20 km from Honfleur - a combination of the rain and too many cars - so we were delayed quite a bit. As a result, we had to scuttle our plans to go to the island. We'll just have to add it to our World Heritage Site list. We did get to Avranches, which is close to the island, but Yvette advised us that we still have a 4 1/2 hour drive to Meusnes, where we had reservations, and it was already 1:30. We walked around the town a little and got a long distance shot of the island, filled with petrol (nearly $100 for a full tank - I know we Americans complain about the high cost of gasoline, but we are so lucky compared to Europeans!). We set off for our Loire valley destination, thinking that Yvette was completely wrong and it couldn't possibly take as long as she was predicting. When will we ever learn to trust Yvette - we managed to best her time by only 20 minutes or so.
The countryside along the way was not very attractive. I had heard, and our experience confirmed, that the French haven't done a very good job of keeping industrial sites together and away from the more attractive places. So you may find a nice town, surrounded by some fairly grim light industrial locations. Also, the litter is worse than we have become accustomed to in the UK, and to a large extent, worse than we see in the US. The graffiti is terrible! Many of the overpasses are covered with 'tags' - they look like the gang tags we used to see so often in the US, but not as much anymore.
However, we landed in a beautiful B & B or gite in the eastern section of the Loire, close to the river Cher. We had learned of this place through www.slowtrav.com, one of our favorite travel websites. We have the 'suite' in an older home - our suite is huge with a palatial bathroom, a small bedroom where we are stowing our luggage and an enormous bedroom that looks as if it should be a setting for some 15th century film. Tile floors, stucco walls, sheep and cow hide rugs and a small copy of the famous 'Lady with the Unicorn' tapestry on the wall. The owner, Madame Lagras is a very tiny, very energetic and 'sympathetic' woman who has gone out of her way to make us feel at home. She gave us directions to a restaurant a few miles away and called to make sure they would be able to take us.

The 'spare room' in the suite at Meusnes

The palatial bedroom at Meusnes

The rest of the bedroom at Meusnes

The extraordinary bathroom at Meusnes
The restaurant is Le Port de Saudre near a town called "Billy" (yes, I'm serious). The waiter didn't speak much English but we managed to communicate - he was friendly and helpful. What a difference after our experience of the previous night. He recommended a wonderful red wine made at a small chateau in Meusnes. We had a delightful meal, including a new-to-us goat cheese that was about the same consistency as yoghurt, served with chopped herbs. It was delicious and refreshing.
Meusnes is very small, so traffic was minimal and the village was quiet, although someone was setting off fireworks when we first returned to our gite. That didn't last long, and since it had been a long day, we were soon asleep!
Sunday - August 21 - the Cher Valley
The chateaux of the Loire Valley are world famous and we have learned that there are dozens of them. We decided to keep driving at a minimum, and recognized that you can tire chateaux after a bit, so we decided to go to only two - that would be our quota. There are many other things to do in this area.
The most famous, most visited and most crowded one is Chateau de Chenonceau. It is beautiful - it straddles the River Cher, which makes it unique. The original part of the chateau was built between 1515 and 1521 for Thomas Bohier, an inspector of finances for kings Louis XII and Francois I. Later, it passed to the crown and eventually became the home of the famous Diane de Poitiers, mistress of Henri II. Diane had the bridge constructed so the castle straddled the river. When the king died, his queen, Catherine de Medicis, forced Diane to exchange Chenonceau for another castle, and Catherine took possession. She had the structure erected over the bridge, which resulted in a very long gallery in which she could entertain.

I thought this fireplace was interesting - I wonder how long these logs burn?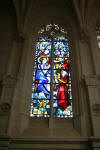 Stained glass window in chapel at Chenonceau - unfortunately, the originals were destroyed by Germans in WWII, so these are replacements made in the 1950s

Boats along the river at Chenonceau
During WWI, the owner of the chateau founded a hospital in the building, at his own expense. In WWII, the Germans shelled the chateau, which ruined the original stained glass that was in the chapel - it was replaced in the 1950s. The part of the chateau that is entered from the north was in occupied France. The bridge/gallery exits to Vichy France, so it was used as an escape route during WWII.
There is a self guided audio tour, which I found excellent, because it didn't spend too much time dwelling on the furniture - rather it was centered around the history of the place and the people who inhabited it. The grounds are beautiful, however the chateau itself was packed - mostly French, enjoying the last bit of their summer holidays.

One of the formal gardens at Chenonceau - this one, I think, was ordered by Diane Portiers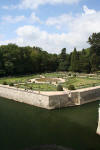 And this one by Catherine de Medicis

The flowers on display in Chenonceau are grown on the grounds and changed twice a week - I really liked this arrangement
Upon leaving Chenonceau, we drove around the area a bit - we were planning on going through the wine caves at Monmousseau, but the next tour was a bit late, so we opted out. Next we stopped at the small town of St. Aignan, originally a medieval village. It has a nice Romanesque church in the center.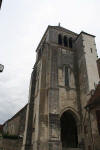 The Romanesque church in St. Aignan
I just realized that we haven't yet seen any walled towns like you do in England, Germany and Italy. I'm not sure if that is because France doesn't have them or if it is because with so many wars fought in this country, many of the towns have been destroyed at least once.
Finally, we drove to Chateau de Valencay. At one time this was owned by Napoleon's foreign minister, Talleyrand. The grounds are immaculate. There is a free audio tour, but a lot of the narrative was devoted to the furniture (the piece in the corner is Italian marble, built in the 16th century with gold leaf, etc., etc., etc.) Tom has little interest in this. On the other hand, Talleyrand, whom Napoleon apparently called "shit in a silk stocking" (not my words!) must have been brilliant, as it was he who negotiated for France once Napoleon was finally deposed forever.

Chateau de Valencay, home of Talleyrand
Our dear hostess, Madame Legras, did laundry for us today, saving us time and inconvenience. We shall not be faced with that again until sometime in Italy, and some of the places we are staying have laundry facilities. She also recommended a restaurant in St. Aignan, where we had dinner. It was good, but oh-so-crowded and oh-so-noisy. However, we have at last got the hang of ordering the house wine in a little pichet ('jug') rather than by the bottle - the result is some fairly decent local wine at 1/2 the cost of a bottle.
Monday - August 22 - Cher valley
This morning at breakfast we chatted with an English couple from York who are returning from their holidays in France near the Pyrenees. They told us about a website that specializes in interesting places to stay - www.specialplacestostay.com. Our experience has been that English are excellent travelers, so we like to find out where they go and stay. We'll look it up when we get home.
Our destination today was the town of Amboise, west of Meusnes. It was here that Leonardo da Vinci spent the last three years of his life, under the patronage of Francois the First, king of France. The king gave da Vinci an allowance and housing and allowed him to spend his time dreaming, sketching, inventing and conversing with the king.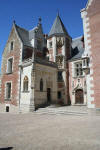 Clos Luce, the final home of Leonardo da Vinci
The whole set up is really well done. The house in which Leonardo lived is furnished in period furniture, but more interesting is the cellar area, where there are 40 models (created by IBM) of machines drawn by Leonardo, with explanations in French, English, German and Italian of how they worked. Outside there is a lovely Renaissance garden, and one can go into the nearby Chateau (but we are chateau'd out). The most interesting part is the life size models of some of the inventions. Here you can paddle one of his side paddle boats or operate some of his pulley mechanisms. It is a wonderful place for children, because they can push and pull to their hearts content - the models are sturdy wood, so they'd have to really try to break them. Paddling the boats didn't look all that easy - people tended to bang into the bank (shades of the punts along the River Cam).

Leonardo's paddle boat, built to life size

Leonardo's winch, with Tom operating it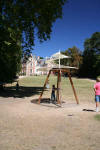 Leonardo's helicopter - most people turned the wheel backwards, so they would have turned it into a pile driver
We went to an internet cafe (cyber cafe in French) and checked e-mail and finances. We haven't been able to upload the journal since we left Free Willie in Paris.
We spent far more time in Amboise than we had intended, so cancelled most of the remaining sightseeing for the day. Our next stop was a small chateau in Meusnes where we bought 12 bottles of their excellent wine - very affordable at €43.80 - about $4.50 a bottle for some top notch wine. The winery is called Chateau de Quincay and they only have an annual production of 20,000 bottles - to import into the US they need a minimum to be sold to the importer of 30,000, so they are a long way from the US market (and they want to keep their production small, so it is doubtful they'll ever import to the US).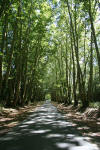 Road leading to Chateau de Quincay, where we bought a case of their wonderful wine
We drove to Valencay - we need some gold plated petrol and there is an auto museum there. Tom filled the car and went through the automatic car wash, but opted out of the museum, which is heavily to Peugeot. Since we have been in some of the best automotive museums in the world, this one just didn't seem worth the time. On the way back to Meusnes we passed this unusual staircase. I hope nobody uses it!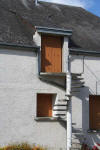 Funny staircase near Meusnes - we call this the 'Safety Manager's Nightmare' - no handrails, and it looks like the steps are narrow as well as it being a spiral
Our hostess, Madame Legras, recommended a farm restaurant about 10 miles from the gite. We've heard often enough about two hour dinners, but haven't experienced them until tonight. The restaurant, the Ferme Auberge, is on a farm in the countryside - we thought we were being led astray, it was so far off the beaten path. The dining room had about eight tables, ranging from two person to eight, so I guess the capacity about 32 diners all together. There was a fixed priced menu and only one choice - what they are serving tonight is what you get because almost everything was grown on the farm. For starters there was an aperitif of pastis and Sauvignon Blanc - very nice, with some little toasts with chevre (goat cheese) and herbs. Then the first of two entrees (the French refer to the first plate as the entree, which is actually correct - we call the plate after the first one the entree, but they aren't really). These were fresh sliced tomatoes - just out of the garden - with a nice vinaigrette and herbs. The second entree was a pate, which I liked, Tom didn't. Then the main - haricot verts (green beans, fresh), potatoes and some beautiful roast lamb. Then the cheese plate - four types of chevre - ranging from a young one to an older, dryer one, to be eaten in the proper sequence, as the flavors became more intense. Then dessert - a creamy 'pudding' for lack of a better word, with raspberries, followed by espresso. We didn't eat everything on our plate like the French do (where do they put all of this?) but we tried everything and ate at a slow, leisurely pace so we weren't uncomfortable at the end of the meal. Also, the portions are smaller in France than in Ireland, so you are less likely to over eat.
Tomorrow we head out toward the south of France and some new adventures.
Tuesday - August 23 - Meusnes to Le Puy en Velay
Trusty Yvette took us over some backroads to the Autoroute (which we have learned are privately owned, like those in Italy - they are generally excellent, although the tolls can mount up quickly). Our first stop was the university town of Bourges. The object was the cathedral, St. Etienne, which is a world heritage site (one more off the list!). It is stunning - the most interesting part to me was the carving over the main door showing the last judgment. A picture is below - in the middle section, the saved are on the left (notice the babies in the loving hand of someone whom I can't identify) and on the right, the condemned are being dragged to hell. It is very graphic - I can see how this was used as a teaching aid - and to spread the fear of God into the people.

The Last Judgment - on the left, the saved, on the right, the condemned, with evil spirits gleefully taking them to Hell

As much of the cathedral as my wide angle lens would capture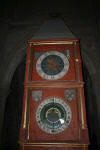 The clock - tells time, day, lunar calendar, sign of the zodiac - OK, it isn't small enough to carry with you, but it is about 600 years old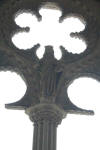 The Blessed Virgin watching over those who leave the cathedral
Back in the car, heading toward Le Puy en Velay, in the Rhone area. Tom was feeling a little tired - something about me leaving open the window and the 'bloody coq' waking him at 5:30. Whoops. So, I took the wheel for the first time. All went well until I got to the first toll booth - one lane was marked 'CB' (credit cards) and we have credit cards, so that's the one I took. After I got into the lane (with someone behind me) I found out that the reader doesn't read all cards (the signs proclaimed in four languages) and mine was one of them (cards in Europe have a smart chip that ours don't have). A nice woman came to our rescue and communicated with the staff - eventually someone came out and took my money and opened the barrier for me. From now on, cash is king on the autoroute!
Le Puy en Velay was our destination for two reasons - it is close to the start of the Ardeche, and there is a beautiful and interesting cathedral in the town. We had no idea how big the town was - we had never heard of it until we started reading our trusty Cadogan Guide last spring. The cathedral is unique as it is perched on a very high rock in the middle of town - to get to it, you have to climb a lot of steps. Also, the entrance is different, in that you enter into the center of the nave, coming in from below the cathedral, up a steep flight of stairs. As a result, part of the church is actually on top of the entry door. We've never seen anything like it before.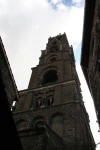 Looking up to the steeple on the cathedral in Le Puy en Velay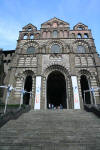 The entrance to the cathedral - this takes you under the nave, then you climb more steps to get into the nave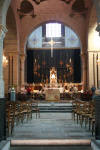 The altar of the cathedral. The figure on the altar may have had Oriental origins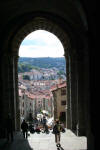 Looking from the cathedral steps to the town below
We had made reservations at a small hotel recommended in Cadogan - it is very central and quite reasonable. Wonder of wonders, this town had WiFi access - you just boot your computer and launch the Internet Explorer and voila! You are on the French National Telephone Company's system - enter your credit card details and you should be able to get connected.

French dogs can't read and their owners ignore the doggie WC - watch your step here or in any other French town!
Tom and I both need haircuts - we left home six weeks ago today. I'm debating on waiting until we get to Italy at the end of the week - my Italian is marginally better than my French, neither of which is very good. I'm a little worried that if I don't communicate about my cowlick (how does one say cowlick in French?) the hairdresser will cut into it and I'll go around looking like Alfalfa in Our Gang.
Wednesday - August 24 - Le Puy en Velay to Buis-les-Baronnies

This is the garage of La Regina - four parking spaces!
Before we left Le Puy en Velay, we drove around to get some pictures of the cathedral and the very large red statue of the Notre-Dame de France. This was made in 1860 from the metal of 213 canons, seized from the Russians in the Crimean war. As the guidebook says, from afar it is spectacular - up close, it is really ugly. There is also a chapel, built in 962 atop a rock under the patronage of Gothescalk, who had it built when he returned from his pilgrimage to Santiago de Compostela in Spain (from what I read, this was almost a 'must do' for the faithful in the Middle Ages). How in the world they managed to build this is beyond us!

The Madonna and Cathedral in Le Puy en Velay
We decided to take our Guidebook at its word and take the long route to Provence. The Guidebook said that the drive through the Ardeche was spectacular. That is quite true. What it didn't tell us is that the roads are tiny, bumpy (although they are paved), with sheer drop offs on the side, and switchbacks so extreme you thought you might meet yourself coming and going.
We programmed the recommended route into Yvette and took off, blissfully unaware that today would have some of the most harrowing drives we've ever had in all of our travels. Along the way, we wondered if Yvette had gotten into the box of wine in the boot, because her icon which is supposed to show our position on the road, actually showed us about 400 meters off the road, in some vacant fields. We discovered that Yvette doesn't deal well with switchback curves that have you going in the direction opposite that in which you started the curve: "If possible make a U-turn" she says - yeah, right - the road is only six feet wide and there is a 500 foot embankment off the side.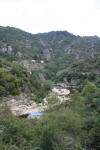 One of the many little villages in the Ardeche

Another little settlement in the Ardeche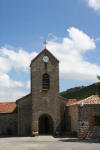 This was taken in a village in the Ardeche, but the architecture is similar to the churches in Normandy
Another little village in the Ardeche

This is Yvette's navigation system. The squiggly line is our road - the red arrow is us. No wonder she was confused!
The Ardeche is dotted with little villages clinging precariously to the hillsides. It is heartbreaking to drive through these villages and note that in every one there is a memorial to the village dead from the last two world wars - WWI being the most tragic. France lost 1,400,000 in that war, proportionally more than any other nation except Serbia, where it all began. A tiny village may have a memorial which lists 20 or more dead - probably the majority of the young male population at that time.
However, the scenery is beautiful. We took some pictures, but weren't able to get angles good enough to do the scenery justice - an aversion to falling off the 500 foot embankment.
Our destination in Provence was in the Drome area, a little village called Buis-les-Baronnies. Once we finally arrived, we were delighted to find that we had selected a beautiful Provencal village, with a tree lined main street around it, the interior being small, twisting lanes with housing crowding against each other. It is absolutely charming, made the more so by our wonderful hosts, M. and Mdm. Fraipont . We found this place through www.bedbreak.com. Our only criteria had been that we wanted to stay in this area, but we didn't know anything about the villages. We are so delighted. Our lodging is next to the church (the bell begins ringing at 8:00 a.m. and rings hourly until 10:00 p.m., so it doesn't disrupt our sleep). It is in the old Maison de Cure and is called L'Ancienne Cure. It is private, peaceful and beautifully decorated with a very comfortable bed. We really like our lodging - the website is www.ancienne-cure.com. If we ever are so fortunate as to return here, we'll opt for the "Chambre du Peintre", which has a private terrace.

Tom demonstrates that you can take a Renault Laguna down the tiniest of lanes - yes, we took ours down this one.
M. Fraipont recommended La Forchette for our dinner. We sat outside, under the protection of a 16th century arcade. The cuisine in this part of France is more Mediterranean, with emphasis on olives and olive oil and pasta is starting to appear on the menu. We had a nice tapenade, then Tom had a ravioli starter, I had a warm chevre salad, we both had confit de canard, but this was cooked with tomatoes and courgettes (zucchini). Tom had chocolate mousse, I passed on dessert. We both had the very strong espresso that is served in France. It was delightful.

The courtyard where we had breakfast and dinner one evening
Thursday - August 25 - Buis-les-Baronnies
After yesterday's drive, Tom wanted some down time. We followed a driving route recommended by M. - it took us to several small villages in the area, and we were able to get some fairly acceptable photos. We stopped for lunch in one of the villages, Montbrun les Bains. My French must be worse than I thought, for I never did get my salad. Tom generously shared his pizza with me, though.
Below are some pictures of the various villages in which we stopped on our drive.

The unusual church at Pierrelongue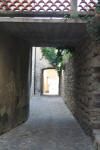 A street in Mollans-sur-Ouveze

One of the fountains in Mollans-Sur-Ouveze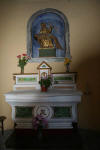 A chapel next to the bridge in Mollans-Sur-Ouveze

The beautiful village of Brantes

Looking down to the village of Brantes

Montbrun-les-Bains, one of the most beautiful little villages in France
The weather here is much warmer than we've experienced any where else in the trip - in the mid to high 20's C - close to 80F. The air is very dry - M. has told us that there hasn't been any rain since April 19, so the farmers are suffering. For us, it is wonderful - we both need to recharge our internal batteries and refresh our much faded tans.
Because we are leaving for Italy on Saturday, and it is a long drive, we decided to do some preliminary food shopping, buying the foodstuffs that won't require refrigeration. There is a supermarket several km from our village, so we drove there with list in hand. We accomplished nearly everything except figuring out how we are going to make coffee (the little Italian coffee pots have never produced very good coffee for us) and finding shortening and baking powder. Our dictionary doesn't have either of these terms, and we couldn't find anything in the likely area of the market that resembled either. We are hopeful that our Italian dictionary is a little more complete.
We really like the village of Buis-les-Baronnies - it is large enough to have most of the shops you need, yet it is quiet and pleasant, especially the tree lined streets. We walked around the village a bit and took a few more photos: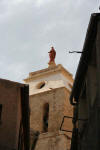 The Madonna atop the church - she looks down into the garden of L'Ancienne Cure

I liked the shutters on this building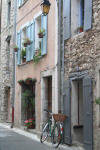 Bicycles are everywhere in this part of France - including on some of the very steep, curvy roads

Our Laguna - it has already seen a lot of adventures - heaven only knows what awaits it in Italy!
M. and Mdm. Fraipont serve dinner to their guests once or twice a week for the very reasonable price of €23. Mdm. was cooking tonight, so we opted to take advantage of this. My goodness, what a feast: tapanade and olives, aperitifs of several flavors, a starter of peppers in olive oil (produced locally, with anchovies), the main course had three dishes: veal in mushrooms, a wonderful eggplant dish with tomato sauce and a grain that we didn't know. All with the local Cotes du Rhone wine and bread. Then six kinds of cheese. And coffee. And cognac. We could have had a fig crumble, but who had room. Added to the enjoyable evening was conversation with M. and Mdm. and two other guests, who live in Geneva. All taken in the beautiful garden of the B & B under the watchful gaze of the Madonna atop the church. This could be habit forming
Friday - August 26 - Buis les Baronnies
We felt fortunate to find a Cyber Cafe where we could upload our journal this morning. This town is so picturesque - I should know never to leave our room without a camera. Unfortunately, I didn't take my camera with me and missed some wonderful shots. There are a lot of cats in the village (which is a problem) but they make for amusing pictures.
M. Fraipont recommended driving to Mont Ventoux by way of Sault. Sault is another hilltop town, overlooking a valley with many lavender fields. The air in Provence even at this time of year is perfumed with lavender - think of adding the colors of the plants in bloom to the perfume - usually harvested in July - this must be sheer heaven.
There was some sort of bicycle event occurring on the way to Mont Ventoux as there were hundreds of bicyclists making their way up the steep slopes. It made for some tense driving, as once again the roads were narrow, the drop-offs steep and the curves sharp. What an odd landscape at the top - rocks, rocks and more rocks - no vegetation anywhere. There is an observatory at the summit, which is quite high - 1909 meters or about 6,260 ft.
After descending from Mont ventoux, we passed Le Barroux and this wonderful view of the castle.
Our next destination was Avignon. What a strange history this town has had. In the 14th Century the Popes moved to Avignon (if my history reading is correct, they didn't intend to do so, but health and happenstance resulted in their relocation) so "Rome" became Avignon for a couple of hundred years. The Papal Palace at Avignon has gone through some pretty hard times, with revolutions, fires, conversion to military barracks, etc. At one time it must have been beautiful. It is impressive, though, if only for size.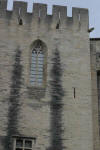 Gargoyles on the Papal Palace at Avignon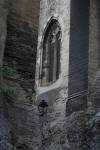 The Papal Palace was built on a rock in Avignon - the builders used whatever material they had at hand

The Papal Palace from the famous bridge of Avignon

Statue of Mary atop the Cathedral at Avignon

These screens hung in the window of a hotel at Avignon were interesting
"Sur Le Pont d'Avignon" is the famous children's song and we walked on the bridge, built in the 12th century. The bridge only spans a part of the river Rhone now, having succumbed to disrepair and neglect in the 17th century.

"Sur le Pont d'Avignon" - the famous bridge, or half of it, the other half fell into the River a few hundred years ago
We returned to our lodging at Buis les Baronnies knowing that we had left a lot on the table - we've only seen a tiny portion of Provence and we really like this part of France - the scenery is beautiful, the villages are charming, the history is interesting, the climate is benign (at least at this time of year - we've heard that the Mistral, the infamous wind of this area, is terrible). We've missed St. Remy, Aix-en-Provence, Chateauneuf-du-pape, and much more.
At dinner (in a little bistro - we wanted a light meal for a change) there was a beautiful rainbow stretching from the hills behind the town across to the valley - once again, I had failed to take the camera. I'll think of it as an omen, for maybe it means that someday we'll return and explore more of this wonderful area.
Tomorrow, a long day in store, as we drive to Toscana and our home for the next week - we are getting into our several weeks of self-catering. It will be nice to have more control over what we eat - we've sorely missed having fresh fruits guaranteed every morning, although we have been delighted that M. Fraipont offers us fresh, cold 'pompelmousse' (grapefruit) each morning at breakfast.
A word about French taxes, which are exorbitant. There is the Value Added Tax (VAT) so beloved of European governments (I think this is because it is largely hidden - it is included in the price you pay for nearly everything, but generally is not itemized - therefore you really don't know how much is being tacked onto your bill. It appears to me that VAT is included in the cost of food, which makes it a very regressive tax). In France, there is also an Income Tax. There is something that was called by Douglas an 'Occupation Tax' - I have no idea what it is supposed to cover, but it sounds like you pay it for the residence that you occupy, whether or not you are the owner. I believe there is also a sort of property tax. New cars have a special tax in addition to VAT. There are inheritance taxes. There is a radio and television tax - we learned from Eric, our host in Buis-les-Baronnies that this is paid on every set, so he pays for all of them in his guest house. There is an inheritance tax. Another tax that I have heard of and strikes me as the most insidious of all is the so called 'wealth tax.' The taxpayer has to pay tax on his net worth if it exceeds approximately $800,000. That may seem like a lot of money, but because real property is very expensive in France, it hits people who may not have the cash to pay the tax, but are subject to it because they own valuable property. Finally, there are the toll roads. Generally, I support the concept of toll roads because the tax is paid by the people who use the service (it has never seemed fair to me that the people in Eastern Washington pay taxes which go to support the state ferry system because they seldom use the ferries). In France, the tolls are very steep and the toll booths frequent. I would be a little more accepting of this if the petrol prices were lower, but they are about the same as those in Italy (somewhat lower than petrol in the UK).