A Week in Sorrento Attending Language Class and Cooking School
Saturday - September 10 - Roma to Sant'Agnello, near Sorrento
The rain passed over Roma during the night and by morning the sky was clear blue. We got the packing done and went for a walk. I wanted to show Tom the incredible market about a km. from the flat. It is sort of a farmers' market, but the stalls are permanent, with shutters that roll down to secure the contents when the stalls are closed. On one side of the street there are two rows of stalls, the other side, one row. The market stretches for six or more blocks. Here you can buy anything except major appliances and furniture - fruit and vegetables, cheese and processed meats (salami, prosciutto, etc.), milk products, fresh meat, clothing, shoes, cleaning supplies, small hardware. It is colorful and cheap!
We stopped at a pasticceria for a cappuccino and small pastry, returned to the flat, loaded the car and were leaving Roma by 9:30. Rather than take the autostrada all the way to our destination, which was less than a km. from Sorrento, we opted to explore the coast for a bit. Antonella dutifully navigated us to Ostia, which is the port of Roma, near the airport. It was a pleasant surprise. I had expected cranes and ships, instead we found beaches, posh hotels and restaurants. However, the further south we went, the more the view deteriorated, with the litter increasing and the buildings becoming poorer. In Anzio, one of the major invasion points of the American forces in WWII, we gave up and told Antonella to take us to Sant'Agnello (which, if my Italian serves me, means Saint Lamb). She navigated us to the Autostrada, and we got to our home for the next week around 3:00 p.m.
Mami Camilla's is different than any other place we've stayed. The place has just sort of grown like Topsy, so there are several buildings with rooms, a center area with an outdoor bar and outdoor dining. The main house, where the cooking school will be held, has a few rooms and a large dining room, office and kitchen. There is a parking lot across the alley that serves for the hotel and a couple of nearby restaurants. I haven't figured out who does what yet - there are several staff or family members and a couple of dogs. However, the room, while simply furnished, is clean and air conditioned. We are only a few blocks from the water and the street isn't as noisy as we experienced on our last visit to Sorrento (we left Sorrento early last time because we couldn't sleep for the traffic and heat). All in all, we are pleased.

The patio area near the outdoor bar at Mami Camilla's
We walked to the water. Sorrento (Sant'Agnello is a village that has been surrounded by Sorrento) doesn't have much by way of beach - a few sandy spots, most of those privately owned, so you have to pay to use them. However, the views of Vesuvius and the Bay of Naples are spectacular. There are few spots we've ever seen that are as pretty.

The Bay of Naples as seen from Sorrento

Sunbathing, Italian style - there isn't a real beach in Sorrento, so you can rest on the bit of public beach for free or rent a chair on the private pier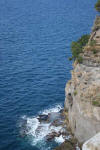 The beautiful Mediterranean near our hotel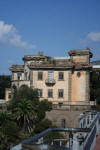 Everyone who saw this place wanted to know what it was all about - it appears to be an abandoned house, overlooking the Bay of Naples, right on the cliff, and is for sale for a cool €3,000,000 (hopefully the foundation is good, we hear that the roof is a mess)
Our lodging included dinner for 6 of the 7 nights (because we are attending the cooking school), so we decided to try dinner the first night in the hotel. In addition to the people who are attending the cooking school (4-8 people at a time), the family and staff who work at the hotel (10-15 people), other guests can join in for the meal by making reservations in advance. Typically there are 50-60 diners at one meal. It isn't like a restaurant, in that what Biagio has cooked is what is served - other than concessions for vegetarians.
At 8:00 the diners meet at the outdoor table and the servers start bringing on the food. Fortunately, the portions are sensibly sized, because there are four courses (those who aren't in the cooking school pay €15 for the meal, drinks not included). This chapter is going to be food oriented, I think.
Antipasto was grilled vegetables - zucchini, peppers, eggplant, with garlic and olive oil. Primo piatto (first course) was cavitappi (corkscrew shaped pasta) with a tomato and cheese sauce. Secondo piatto was a roast beef, thinly sliced, with potatoes. Dolce, dessert, was an apple tart It was wonderful. The tables seat 12, so there is ample opportunity to talk to other diners - we sat next to a couple from London, Rachel and Casper, and a man from Copenhagen, Soren (he isn't staying here, they didn't have room so they directed him to a nearby convent for lodging, but he is eating here). Dinner was a two hour affair.
Sunday - September 11 - Sant'Agnello and Sorrento
September 11 - how the world has changed in the four years since the attacks on the United States. It is a day of remembrance. But, life has to go on and we are thankful that people are still willing to travel and experience as much as they can.
Our day started out with breakfast in the same dining area as dinner. The Italians aren't big on breakfast. We had a croissant ('cornetto' in Italian), some juice and a cappuccino. That was adequate. Then we walked to Sorrento. Only 15 minutes, we were told. Hah! It was at least 30 minutes without a pause. Not all that far, except it is hot in Sorrento in September!
We stopped at a pasticceria for a coffee, then continued to the square in front of the municipio, town hall. I wanted to see if I could find some cooler clothes. We had limited ourselves in packing because we didn't want to haul around too much 'stuff' but with only three sleeveless blouses and four weeks remaining, I knew I would have a hard time keeping in clean clothes. Tom parked himself on a bench to watch the world go by and I went off in search of cooler clothes.

Shopping in Sorrento center - the old town is riddled with small alleys with little, charming shops and shop keepers who are happy to sell you lots of stuff you don't need.

It is pepper season in Sorrento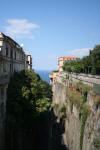 Sorrento is divided in two by this gulley
Sorrento has all sorts of opportunities to spend money. There are dozens of shops where the local drink, limoncello, is sold (it is wonderful stuff, in small quantities - a liqueur made with lemon juice), tables with inlaid wood designs (Tom's mother had a set of nesting tables of this style that Fran owns now), Capodimonte ceramics (we have Tom's mother's candy dish that she bought here many years ago), shoes, belts and other leather goods, embroidered tablecloths and linen clothes. I found a linen shop and bought a couple of things, then went back to fetch Tom - I had seen a couple of photo ops on the way. He was in conversation with an Englishwoman from Rye, a lovely town on the south coast, near Hastings, that we've visited a couple of times.
Because shoe stores are so plentiful here, we thought Tom might find a good pair of driving shoes, but the shops didn't have anything to fit him. We gave that up and went for lunch at the Foreigners' Club, a Sorrento institution, with great views of the bay. The food is pretty mediocre, but the view is spectacular. Afterward, we shopped for some cooler clothes for Tom. It really is hot here (around 85 and muggy) and we expect that Sicilia will be hotter yet.
We walked the '15 minutes' back to the hotel, got on cooler, dryer clothes and went to a restaurant on a nearby terrace for a drink, then returned to the hotel. We chatted with one of the people who is affiliated with Mami Camilla's, Salvatore - he was born in Sorrento, moved to the US when he was 17 and married there. After his wife died a few years ago, he returned to Sorrento with his 13 year old daughter. Tom asked him about looking up records on his grandparents, who were born not far from Sorrento. Salvatore offered to help. Because he is fluent in Italian and English, he may be able to help us get more information than we were able three years ago. We have his business card, so we'll check in with him when we return after our trip to Sicilia. He also takes people by boat to the Island of Capri, which we'd like to do when TTS is with us in a few weeks.
We inquired about dinner tonight and were told that the chef was grilling fish, so we decided to eat at the hotel as we were craving a nice piece of fish. We were really glad we made that decision.
Antipasto was a selection of fritters, the best being zucchini flowers stuffed with ricotta and then fried. Primo piatto was a wonderful risotto (rice) with hardboiled egg, various vegetables, cheese and tomato sauce. The fish was amberjack, rather like swordfish - firm, not a bit oily. grilled with a basting of olive oil, served with boiled potatoes. Dessert was a cake - chocolate with an unknown liqueur. We enjoyed the company of Soren, and Tanya and Brent, a couple from Vancouver, BC.

Soren, Tom and Mel at Mami Camila's (photo courtesy of Tanya and Brent)

A Sorrento sunset (photo courtesy of Tanya and Brent)
Tomorrow our language school and cooking classes begin. This will be a real change of pace for us.
Monday - September 12 - Sant'Agnello and Sorrento
Agostino, one of the sons of Mami Camilla, took us to language school where we first had an oral interview to determine which class we should attend. Then, on to class.
We realize that we have forgotten a lot - our vocabulary is pretty good, but we seem to be confined to only a couple of verb tenses, which rather limits what you can say. There are nine people in the class - four Americans, young women from Holland, Japan and England, men from Germany and Brazil. Generally we are pretty well matched in our capabilities. Classes run from 9:00 a.m. to 1:15 p.m. with a 15 minute break. There are extra-curricular activities, such as a class in making limoncello that are optional.
Class over, a light lunch at a little cafe. The owner was amazed when I answered one of her questions in Italian - as if she had never heard a Yank speak Italian before. That's strange.
We walked back to the hotel, took a short nap, did our homework (not much assigned) and went into cooking class.


The kitchen at Mami Camilla's - we love this marble work station - it is the heart of the kitchen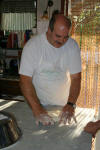 Biagio, the chef, demonstrating rolling pasta dough
The antipasto was a concoction of peppers, olive oil, garlic and tomatoes, cooked together until the peppers were soft. The primo piatto was hand-made paperdelle with a sauce of parmesan, white mushrooms and porcini mushrooms. The secondo piatto was a sort of stew made with beef and pork, carrots, potatoes and beans. Dessert was profiteroles.
We were really tired by the time we climbed up to our room for bed. It had been a very full day.
Tuesday - September 13 - Sant'Agnello and Sorrento
We are getting into a routine - up at 7:00, shower, dress, a light breakfast, walk to class, attend class for four hours, lunch, walk back to the hotel, homework and/or nap, attend cooking school from 4:30 until 8:00, dinner, collapse.
The only difference today was the internet connections to the US were down, so we couldn't update our journal and we couldn't withdraw any money from our bank account with our ATM card.
Dinner was 'pizza rustica' which is a two crust pizza, filled with a combination of ricotta, parmesan, proscuitto, salami. The primo piatto was pumpkin ravioli, which sounds very strange, but was wonderful - it was filled with ricotta, parmesan, eggs, candied fruit (yes, that's right). The ravioli were handmade. Secondo piatto was a swordfish cooked with capers and the most wonderful olives we've ever had - they are called olivi dolci verti ('sweet green olives') and they are terrific. Dessert was panna cotta ('cooked cream') which is a custard, with a sauce of 'frutta di bosco' or mixed berries. The sauce had wild strawberries, red wine, sugar, cinnamon and a bit of fresh orange juice.
Collapse again.
Wednesday - September 14 - Sant'Agnello and Sorrento
The usual routine in the morning - walk to class, attend class, light lunch in Sorrento, walk home. Today the internet connections worked, so we were able to update our journal and get some money.
Walk back to the hotel, a bit of a nap, attend cooking class, update journal, do homework, collapse.
Dinner tonight was a pizza Margherita, cooked in an electric oven, not a wood fired one, with tomato sauce, basil, mozzerella and parmesan. Primo piatto was a pasta like ziti, with a sauce of fresh tomatoes, eggplant and zucchini. Secondo piatto was pork cutlets (cotelleto Milanese) and a few fresh sliced tomatoes. We got the preparation of the pork cutlets (Milanese) down to a science after a few minutes. Dessert was something similar to Napoleons, except there were fresh strawberries instead of chocolate in one of the layers.

Barbara, Jason and Tom making coteletto Milanese
We are learning a lot in both the Italian and cooking classes, and we enjoy the dinners at the end of the day - we have ample time to chat with people from all over - dinners usually take in excess of two hours. It sounds as if we are eating our way into oblivion, but that isn't the case because of breakfast and lunch are very light and the portions at dinner are really reasonably sized.
Thursday - September 15 - Sant'Agnello and Sorrento
Sort of the same routine - walk to class, lunch, walk home, nap, homework and cooking class. The only exception is that one of the exercises in class was rather disturbing to us because it was focusing on debating certain social issues and we didn't feel that it was appropriate in the setting. I took the instructor aside and explained that I wasn't comfortable with this - for heavens sake, why can't people keeping issues like the death penalty and 'gay' adoption out of ordinary conversation and just let us get on with learning Italian? We dropped out of the program at Dante Alighieri because some of the people couldn't get out of the mode of discussing American politics.
We stopped for lunch at the same place we had done on Monday - the owner recognized us and told her sons who are working there: "speak to them only in Italian, they are trying to learn Italian."
Dinner tonight was calzone for antipasto (they are fried, not baked), stuffed with ricotta, prosciutto and salami; lasagne with homemade pasta which is actually easier than the packaged pasta if you have a pasta machine that rolls the pasta out; little meatballs; cheesecake. It wasn't as good a meal as we've had previously, I found the calzone a little to bready for my taste. The lasagne was wonderful - Biagio puts hardboiled eggs in his lasagne. I remember the debates Tom's mother and aunt had over meatballs - Auntie Anna put raisins in her meatballs, Mom put pinoli in hers. They used to argue about what was proper. Biagio says that both are old Neapolitan recipes. Guess they were both right although Mom (aka 'Nan') would never be able to bring herself to admit that Anna was right!
Tomorrow is our last day of class (both). We are finding that the schedule is a bit easier as we develop the stamina, but it is still a grueling schedule. I think the beaches in Sicilia have lot of appeal about now!
We learned something about dialect - for years we have been quoting Tom's mother as saying (when she couldn't remember the name of something) 'goomazigama' (Neapolitan equivalent of 'thingamajig'). After all this time, we have learned (from Salvatore) that what she was saying was 'Com'e si chiama' ('what does one call it?) in dialect. I had always thought that she was using Neapolitan slang!
Friday - September 16 - Sant'Agnello and Sorrento
Graduation day from language school and cooking school.
We are surprised at how our Italian has improved in a week. In language school we brushed up on a lot we had forgotten, very little of it was new, but if you don't use the language regularly, you soon forget. In cooking school, we found that we learned a lot of new terms, but also had to listen carefully because Biagio and his family speak dialect. We are now able to tell when they are speaking dialect and pick up on a few words. Palmira, the woman who helps Biagio in the kitchen, is really patient with our faltering attempts at the language and corrects us. Guiseppe, the younger son of Biagio, scolded his father today for speaking dialect in the kitchen to Palmira. "Speak Italian, they are trying to learn Italian."
The set up of the cooking school is interesting in that people can 'drop in' to attend a class; register for three, five or 10 days; or enroll in the intensive course, which is three months. The latter is designed for people who want to become professional chefs. There are three people enrolled in the intensive course, which may also include attending the language school. Tom and I enrolled in the five day course, and we also cooked with people who were enrolled in the three day or drop in courses. You never knew how many people would be in the kitchen for any class.
Tonight's meal was an antipasto of little fried patties made of bead and eggplant. I've always liked eggplant, but Tom would never eat it until recently, so I haven't cooked it often. This week, I've chopped more eggplant than I have in all my cooking experiences previously.
The Italians are thrifty, probably because they have been so poor for the past several hundred years. Therefore, bread which isn't eaten at one meal shows up in another as bread crumbs or an ingredient. Tonight, Biagio took left over breakfast rolls (unsweetened), soaked them in water, then squeezed the water out, mixed them with the chopped eggplant, parmesan cheese, eggs, fresh basil, formed them into patties, then dipped them into bread crumbs. They were fried in safflower oil. I was surprised that olive oil is never used for frying.
The primo piatto was risotto (rice) cooked with a kind of cabbage that I had cut into strips, with fennel seeds and parmesan. I dislike cabbage (Tom says the smell of cooking cabbage reminds him of dirty socks), but I will admit this was very good.
Secondo piatto was rabbit. Biagio had fresh, whole rabbits that he cut up (they came with their heads and little beady eyes, which upset two of the students - they are enrolled in the intensive course - you'd think they'd be used to something like this, both having graduated from professional culinary institutes). The rabbit was marinated in a mixture of white vinegar and white wine, then browned, then cooked with carrots, celery and tomato sauce. It was wonderful.
Dessert were little pears (they were shaped like apples!), cored, then filled with a mixture of cream cheese, amaretto cookie crumbs, marzipan and tiny chocolate chips. The pears were baked, then served with a chocolate sauce.
Tom and I have decided that if we were to attend a cooking school again, we would look for one that was taught in Italian. We enjoyed this one very much and the fee was reasonable, but the language school was rather expensive, so we'd try to combine. It would also be a little less tiring. However, for someone wanting a grounding in Neapolitan cooking, Mami Camilla's is really good value. Especially learning how to cut up eggplant!