A Week in Massa Lubrense with TTS
Saturday - October 1 - Stazzo to Massa Lubrense
We were up early, showered and had breakfast, and packed the car. When all was done we opened the gate, locked the keys in the apartment and drove down to the bar for a cappuccino - no brioche this morning as we had eaten a big breakfast to get rid of things we didn't want to take with us.
We were on the road before 10:00 and headed for the ferry terminal in Messina. We had a very short wait before driving onto the ferry and were soon on our way to the mainland. When the ferry was being unloaded I managed to get my nose in front of a tour bus and avoided the wait for the large vehicles to unload. One only has to drive a few kilometers through Villa San Giovanni before getting on the Autostrada headed for Napoli. It was a long drive (with a lot of construction on the autostrada) with some stretches at speed and others rather slow. In some places the temperature dropped to 12 degrees Celsius (54 degrees Fahrenheit), which was a bit of a surprise.
We got to Sorrento a little after 5:00 PM and called our hosts. They arranged to meet us next to a local supermarket and then led us to a place where we could park the car. It turned out that the 'road' to the Villino was quite narrow and the final turn into the property would be almost impossible to execute in a car the size of the Laguna. Our host drove a Renault Clio and still had to maneuver back and forth to get into the property. The place where we parked the car was about 500 meters from the Villino (Mel and I later decided that must be as the crow flies) and our host, Giovanni, loaded our things into his Clio and off we went. We were only able to get about half our things into the Clio, so we went back for a second trip. TTS went back to the Villino with Giovanni while Mel and I drove back to the supermarket to pick up a few things for the weekend.
We drove back to the parking place with no problem and then hiked to the Villino. If it is 500 meters along the road I'll eat my hat. Fortunately, it is fairly well lit. Once back to the flat we prepared and ate a fashionably late dinner.
The Villino is really very nice and quite spacious. It is also very well equipped, although a good kitchen knife would be nice. We were very pleased to find that it has a washing machine, so we will be able to get our laundry caught up. A little washing up and three very tired folks were off to bed.
Sunday - October 2 - Around the Villino and into Priora
In the light of day we could see what a delightful setting we had. From the Villino one can see across to Capri.

Capri from the Villino, with another little village in the foreground
We had a good bit of laundry to do and the sun was shining and we were still a bit tired from Saturday's travels, so we stayed around the Villino and did most of our laundry. Our hostess showed Mel where the clothes lines are and there was ample capacity. We did have to bring some of the clothes in at the end of the day as they were a little too late and too heavy to dry completely.
We had not picked up anything for lunch so we walked into Priora. It is a tiny village about as far from where we parked the car as the car is from the Villino. We took the low road into the village and walked past the stands that had been setup for the Sagra del Uva (the grape festival). The little church is on the low road at the foot of a flight of rough steps that lead up to the high road. At the top of the steps we found a bar and a restaurant. We had lunch sitting on the terrace of the restaurant and looking out over the Bay of Napoli toward Vesuvius. We still find it hard to believe that such an unimpressive mountain did so much damage to Pompeii and Herculaneum. The lunch was quite good and Mel decided that once home she would try to duplicate the lemon risotto that TTS had.
We hiked back down the high road to the Villino and I went up to see Giovanni. Our laptop had found a wireless network with a strong signal and I was pretty certain that it must be his. He came down and got us setup to access the Internet, but not before Maria cut a piece of her freshly made torta for us. We were able to get caught up on email and finances and get our web site updated through our last day on Sicilia.
The rest of the afternoon was fairly lazy. I prepared pasta e fagioli for dinner, and after washing up was done we hiked back to Priora for the Sagra. Like Colle di Val d'Elsa three years earlier, they sold you a neck pouch with a wine glass in it. Only here it was five euros rather than eight and included a ticket for tastings of the food they had prepared. The wines and the food were enjoyable. They also had musicians playing the lute and the guitar and a couple in native costume doing traditional dances.
Having made our last stop at Stand 4 (more wine and some cheese) we started the stroll back to the Villino. We were almost back when the rain started - at first a little sprinkle but full-fledged before we reached the door. We sat up a little later before turning in for another good night's sleep.
Monday - October 3 - From the Villino into Napoli
Good grief, was it ever wet today! We walked up to the road and up to Priora and bought tickets for the bus into Sorrento. Twice we tried to flag down the bus on its way down the hill without success. Finally we caught the bus UP the hill and stayed on for the ride back down. The bus stops at the train station in Sorrento and we bought tickets into Napoli and boarded the train. This train is a milk run that stops at a number of stations on the way. Eventually we got to Napoli, stopped at the tourist information office and bought cards that give us transportation all around the area on bus and train and admissions or discounts to a number of sights for three days. We took the metro one stop to the Museo Archeologico and had lunch at an outside cafe. To get to the cafe we went through an incredible building that must have been beautiful at one time. It is a large, high-ceilinged gallery with a 'glass' roof that makes it very light and airy. Unfortunately the roof leaks so the floor has huge puddles and the whole structure is in a very sorry state of repair.
Naples makes me sad - it has the potential to be an wonderful city - the Metro is quite good, there are excellent museums - we only saw one of many and at that, because they are going through extensive renovations, did not see all of the collections. I think that the authorities are seriously trying to combat the corruption that has been endemic for so long. I did not feel unsafe - when we got on the train in Sorrento, there was a uniformed, armed, private guard on the car - a change from our visit three years ago (when we witnessed a theft on one of the trains - a foolish woman had worn a necklace of some value and a thief ripped it from her neck). When we got to the main train station there were a lot of armed private guards on duty - they were helpful and courteous. All in all, I would like to come back to Naples in that great 'someday' that is adding up - we have left so much on the table.
After lunch we went into the museum. It has an incredible collection of items from Pompeii and Herculaneum - bronze statues, mosaics, etc. One section of the museum is devoted to ancient pornography. Most of it is done in mosaics and depicts various sexual acts or attributes. We spent a couple of hours in the museum, very little of that in the porn shop, before catching the metro and train back to Sorrento. Perhaps the most interesting thing we saw was a metal colander that was amazingly well made and uniform in shape and hole pattern and was a couple of thousand years old. Once we got to Sorrento, I waited in a bar near the station while TTS and Mel rounded up some groceries. We then took the bus back to Priora and hiked back to the apartment.
I'm not sure how many times we got wet today, or how wet we got, but I certainly don't wish to do that again. The museum was worth the trip and perhaps the best part of the day was when we went into the tourist information office. Mel had asked the man (in Italian) if he sold the art card. He asked if we spoke Italian and, when we replied yes, a little, he was off to the races. He enunciated very well and didn't speak overly fast, so we were able to understand about 90% of what he said. It was great fun.
Tomorrow will be another adventure. The plan is to go to Pompeii but the forecast is for weather like today. We'll just have to wait and see.
Tuesday - October 4 - From the Villino to Pompeii
It wasn't quite as wet today and we are starting to get the hang of the buses, so we were fairly successful in our travels - we got to the downhill stop two minutes before the bus, saw it coming down the hill and flagged it down. The traffic into Sorrento was even worse than usual (and it is usually really bad!), so the bus was late. However, we caught a train and got to Pompeii with ample time to see the sites.
Tom and I had been to Pompeii three years ago, but this was the first trip for TTS. We decided to rent a couple of audio guides and do a self-guided tour. The audio guides are quite thorough and you can pick and chose what you want to see.
One of the things that you don't expect is the size of Pompeii - it was a sizable city when the eruption occurred, and I believe the city is not fully excavated even yet. That being said, we were there for about 3 1/2 hours, only taking one small break for coffee and to do some route planning, and we did not see more than 25% of the site. Some buildings are more interesting than others, of course, and there are a lot of structures that are just shells of buildings of unknown purpose. Others are remarkably complete, although there are no roofs left anywhere and there are very few, if any, that have complete walls.
We were particularly interested in the construction of some of the buildings - they were rubble held together with concrete, with brick courses in some places (not sure of the purpose), covered in concrete, then stucco which was smoothed over the top so the walls looked like marble. In some cases the marble was incised so it looked like building blocks. The columns in the Basilica were made of brick that was made in such a way as to make the column look fluted. These brick columns were then coated with cement to provide a fairly smooth surface and then a thin layer of marble dust mortar that could be polished. Marble columns on the cheap.

The interesting way the buildings were made can be seen in this shot
I liked the baker's shop - the oven looks like the pizza ovens you see today in Italy. Guess there is no point in changing something that has worked quite well for 2,000 years! The flour grinding mechanism was also very interesting.

This is the Pompeii bakery, which the audio guide points out was not a retail outlet but rather the bread was either wholesaled or sold door-to-door
Walking on the streets is really tiring because they are paved with very large stones and you have to be careful every step to keep from turning an ankle (something I'm really cautious about after my break in May). When we left we were very tired.

The stepping stones that allowed citizens to avoid stepping down into water can be seen here. They were spaced so that goods wagons of a standard size could make it down the streets.


Here one can see the source of all of Pompeii's misery in the background and one of the victims at the moment of death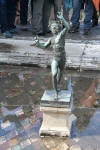 These photos are inside the thermal baths and in the house of the faun, which must have been owned by a very wealthy family as it was obviously quite grand and occupied an entire block
The train ride back was noisy. I cannot believe how much Neapolitans talk - and how loud. The train stopped several times en route - my guess is that they have to route the trains onto one track to go through the various tunnels. Once the train is in the tunnel is goes lickety-split - as if the engineer thinks he is on a motorino.
Back in Sorrento - for some reason the 5:40 bus never appeared and the 6:00 bus, which we were on, left at 5:52. I'm sure there is a system, but I'll never understand it.
When we got back to the flat TTS and I were waylaid by a couple of children - a girl about 4 and a boy about 6. The girl asked me all sorts of questions, but I think she was speaking dialect because I understood very little of what she said. She insisted I was Francese and apparently had never heard of Americana.
With any luck tomorrow we are going to Paestum down the Amalfi Drive. I hope the weather holds!
Wednesday - October 5 - from the Villino down the Amalfi Coast and to Paestum
How wonderful - the day dawned not clear and bright, but nonetheless quite nice. We got out of the flat reasonably early, hoping to avoid the worst of the traffic, which is notorious. It took a bit of TTS's expert map reading, but we got onto the world famous Amalfi Coast drive. TTF and I drove this three years ago and were amazed at the engineering skills of Italians.
This drive is justifiably famous - little towns clinging precariously to cliffs, switchback curves that the buses have to jockey back and forth in order to navigate; motorinos dart in and out of traffic and the SITA (public transport) buses do their best to make the schedule. You can actually catch a SITA bus in Sorrento for €1 and be taken to Amalfi, but the ride is so popular that there is a long queue. We decided to drive because the combination of train/bus/boat to and from Amafli/Paestum/Sorrento was too complicated and too long.

The Amalfi Coast - note the bit of road and car on the left

The towns are built right up the hill side
The traffic was bad, but not as bad as we had expected. The tour buses don't help - in an effort to please their passengers, the drivers stop so people can look at the view - even though there aren't any pull offs.
Although the towns are beautiful and romantic, I can't imagine staying here - it is very commercial, crowded and expensive.
We got near Paestum at lunch time and pulled into a restaurant. It was a bit of luck - the restaurant was clean and comfortable, and the owner was most accommodating. He didn't have a lot of customers, so the owner was very attentive and tried to make conversation with us. He had another table of four people who seemed to be speaking alternatively French and Spanish (we never could figure out which). The owner spoke Italian rather than dialect (good thing) but his pronunciation of some words had a distinctly Neapolitan accent - rather than the hard 'ch' sound of 'cinque', he softened it to 'sh', for example.
Lunch was good - I had a spaghetti 'Messicana' which was a piquant spaghetti - quite spicy, and very enjoyable. A woman at the table next to us ordered a cappucino (at 2:00 p.m.) - the owner/waiter feigned horror at the effrontery of it. An Italian doesn't drink a cappucino after 10:00 a.m.
We drove to the ruins at Paestum. This is a beautiful place. There are the remains of three temples, very well preserved, and a museum full of wonderful artifacts. Rick Steves says allow two hours for the two - we were there about three hours and didn't begin to see everything.

We couldn't remember the name of this structure, but people gathered here to vote for their government officials. Based on the size, we concluded that they didn't have universal suffrage/


The Temple of Neptune (actually dedicated to Hera) was built in 450 B.C. In the right photo you can see a second tier of interior columns.

The Temple of Hera - not sure why there would be two temples dedicated to Hera

The Temple of Hera with the Temple of Neptune in the background and TTF in the foreground

The Temple of Ceres stands alone a few hundred yards from the other two
The reason Paestum is so fascinating is that this was a thriving Greek city four hundred years before Christ. The Romans took over and then, thanks to the anopheles mosquito and subsequent malaria, the site was abandoned and eventually forgotten. It was rediscovered in the 1700s, but not excavated until the 1900s. The temples are well preserved and the site has several other remains, such as a forum (or agora in Greek) and an amphitheater.
Rather than take the Amalfi Coast back to Sorrento, we took the Autostrada north to Naples, then back to the Sorrentine Peninsula. We stopped at a place that sold fresh pasta and bought some ravioli filled with chicken and an antipasto that was fresh pasta rolled with a filling of mozzarella, prosciutto, peas and carrots. I went to the local supermarket and got a few pieces of scallopini (veal) prepared with tomato sauce and mozzarella (this is the mozzarella capital of the world).

We were treated to this wonderful sunset on the way back to our digs
So, dinner tonight was the little antipasto, scallopini, ravioli and a salad. We opened the bottle of Brunello because this is the last meal we'll be cooking before returning home and we don't want to have the extra baggage. Brunello is a wonderful wine - even the vintage we bought - 2000 - which is three out of five stars. We will never be able to afford Brunello at home - I've never bought it at home - it runs in the $60 per bottle range. We paid about $15 for this bottle. It is wonderful - no wonder it is famous world over than people await anxiously for the release of the vintage (to be called Brunello it has to be aged 5 years, grown in a specific area of Tuscany ((Montalcino)) with specific grapes and bottled a specific way - they enforce this very strictly in order to preserve the reputation of the wine).
Thursday - October 6 - From the Villino to Montecassino and Mercogliano
We were fortunate with the weather again today. We drove back up through Sorrento and Naples to Montecassino. There is a monastery that sits high up on a hill and commands a view of the roads and rail line that the allies would have to have used to make their way north up the peninsula from their landings in Anzio and Salerno during WWII. We stopped at a view point and took a couple of pictures.
The monastery is quite large and there is a basilica inside. The interior of the basilica is beautiful, as is the undercroft.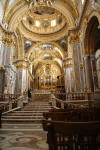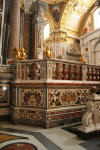 Photos of the inside of the basilica and the undercroft
The German army had fortified the position and installed sufficient weaponry to ensure that they could prevent a northward passage. The battle lasted some six months and, in the end, it was Polish troops that managed to wrest the position from the Germans. There is a Polish military cemetery in the area across which they had to stage their attack. Standing on the site, one can't help but reflect on the incredible courage of those Polish soldiers who had to know that the odds were overwhelmingly high that they would not live to the end of the day, much less ever see their homeland again. And yet they did attack and won and cleared the way for the allied advance to Rome and beyond. In that cemetery rest 1,051 of those brave men. While we were there, a busload of Polish tourists arrived and made their way to the top of the memorial grounds. As we were walking back to our car they began singing - we assumed it was their national anthem.


The view from the monastery and a panorama of the area the Germans would have controlled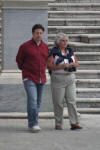 TTS and Mel didn't realize this photo was being taken

The monastery as seen from the cemetery



These are views of the Polish Military Cemetery - there are a number of Poles in the center photo

This picturesque castle can be seen from the road up to the monastery. It was of tremendous strategic importance during the battle, because if you controlled the castle you controlled the road up to the monastery.
We drove from Montecassino to Mercogliano, the town whose name was my grandmother's maiden name. It is a charming little town, rather more so than Nola. We spoke with the young man in the tourist information office and told him about my Italian heritage and our desire to find information on that side of the family. He confirmed our thoughts that we needed to go to the commune in Nola. We'll do so tomorrow.
Friday - October 7 - From the Villino to Nola
We were up early and hustled through breakfast, etc. The usual hike up to the car and we were off to meet Salvatore at Mami Camilla's. We had arranged to have him accompany us to Nola to help in researching the Villani family.
The drive to Nola was uneventful, but finding the city hall (the municipio) was another thing. It was amazing the number of people Sal asked who had no idea where THEIR municipio was. Eventually we did find it and found a very nice gentleman who helped us. We were able to get copies of the birth certificate and marriage certificate for Grandpa Felix. The man said he would continue to work on it and gave Sal his phone number. Sal will call him in a couple of weeks to see what he has found.
Our next stop was the cathedral across the piazza from the municipio. We located a young woman who, at first, seemed disinclined to spend time on our project as she was on her way home. But she pulled out one parish register and started finding information and just kept working on it until the first round of information was completed. We found that great grandparents Villani had a son Felice (Felix in English) in 1878 and that son apparently died as an infant. Then Grandpa Felice was born in 1879. We had been told that he had a sister Rosa and the young lady found that Rosa had been born in 1882. Rosa was followed by Giovanna in 1886 and Annunziata in 1890. We have copied all that info and will provide it to Sal who will turn it over to the man in Nola. With a few more rounds of searching they may be able to point us to living relatives.
We returned to Sorrento and dropped Sal before heading out for lunch. After a brief stop in town for Mel to exchange a blouse she had purchased and which had started coming apart, we drove up to S. Agata for a pastry and a cappuccino. Then it was back to the Villino to get as much packing done as possible.
We had dinner at Mami Camilla's and returned to the Villino in a real frog-strangler of a rain storm. The lightning and thunder were very impressive. Dinner was fine, as usual, and it was good to see Biagio and his family again. Mel got Palmira to write the words to Sega Sega, a little Neapolitan dialect rhyme that we had heard my mother say but never got her to write for us. So between that and goomazigama (that turned out to be come si chiama) it was a successful visit to the Mezzogiorno. We would like to return as we find the south of Italy really interesting and many of the people very friendly. But tomorrow it will be an early wakeup call and the start of the dash back to Paris for our flight home.
Sega sega mastu cic
na panel e na sacic
a panel cia mangiam e
a sacic cia stpam
Saturday - October 8 - Massa Lubrense to Sestri Levante
TTS had a flight from Naples at 11:00 something, so we wanted to get to the airport around 10:00. Traffic on the Sorrentine Peninsula being what it is, we really didn't have a clue how long it would take. Giovanni took us to the car and we were on the road by 9:00. Before we left we took this photo of the Villino.

Our Villino della Nonna near Massa Lubrense
We really liked Villino della Nonna, even though the car was parked 500 meters away and when you are walking in the dark in the pouring rain, that seems a very long distance, indeed. There was some confusion about the 'extra' charges - we thought we had paid them to the agency, Giovanni and family didn't have any record, but we'll get that straightened out later. We don't know when, if ever, we'll return to the Sorrento area, but if we do, we would stay at Villino - but book with them directly rather than through Summer in Italy, the agency, which hasn't always served us well.
TTF drove about as 'Italian' as he ever has and somehow got to the airport at 10:05 - at first we couldn't believe it was an airport - it looked more like an industrial building, but we found the correct terminal, and that was a more 'airport' like building. It is always difficult to say goodbye to one's children, especially when they live so far away. However, TTS is going to come home for Christmas this year, so that is some compensation.
We hit the Autostrada and TTF drove. We had good luck all the way to Tuscany - no back ups or accidents of any kind. However, once in Tuscany, we encountered several road construction projects and accidents which slowed us down a bit. Although driving in Tuscany is challenging, there are always the little hill towns that you can see from the Autostrada that make the drive interesting. We've been in Italy six weeks this trip and haven't begun to see all we'd like to see - it would be fun to settle in Tuscany for a month or so and just explore the countryside.
We had a goal of reaching at least La Spezia, but knew we didn't want to stay in that town - it is too large and confusing. After a check of the map and guidebook, we settled on a town we had never heard of before - Sestri Levante. It is close to the Autostrada and right on the water. As it turned out, it is a charming town, somewhat off the main tourist route, with several hotels and restaurants. We chose the Mira, on the waterfront, listed as 'moderate'. The room is larger than most and very comfortable. We opted to stay in the rear of the hotel, away from the street noise.
This is quite a little town - it is very busy, but not as frenetic as Sorrento - the traffic isn't nearly as bad. There are a lot of pedestrian only streets, so it is a great place to walk. There are a lot of little shops on the main streets and the passagiata is alive and well. We walked around a bit, checked out the restaurants listed in the guidebook and deemed them unacceptable for various reasons. We had dinner at a little place, La Tortuga, near the hotel.
The thing that makes this town so interesting is that it has two beaches - the town is on sort of a peninsula, so there are beaches on each side, and the buildings - they are painted to look like blocks, with various architectural features (cornices, etc.) painted on the walls. Every so often you see a building that actually has a real cornice It is almost like walking around a movie set - what is real, what is fake?


The beach and some fishing boats in Sestri Levante


Many of the building are painted to make them look like they are constructed of cut blocks and have carved ornamentals on them. Can you tell what is real and what is fake?
Tomorrow we will be in France, so we'll stow the Italian dictionary and dig out the French one. TTF's Italian has improved so much these six weeks, he often is complemented on his Italian - mine is still too 'American' but I can make myself understood.
Sunday - October 9 - Sestri Levante to Beaune
Day number 90, unlike many recent days, was gorgeous. The sky was clear and the temperature very comfortable. We had our included breakfast in the hotel, finished packing and checked out, and strolled around a little before hitting the road.
We had determined that we needed to get as far as Lyon, perhaps a bit further, in order to make Paris with ample time to turn the car in on Monday. We assumed that Antonella would take us along the Cote d'Azur, then north. When we got to Genova, we were more than a little surprised when she did not have us turn west. A scramble of map reading, and we realized that she intended that we go straight north, through the Mont Blanc tunnel, then gradually west, heading north somewhat north of Lyon. We are so glad that we trusted her!
We had originally planned on stopping in a little French town named Buxy, but part way through the morning Mel spotted some listings for Beaune in the Cadogan guide. So we reprogrammed Antonella and she altered our route. Our new route took us through some lovely areas of Italy along excellent roads with very little traffic.

This interesting castle on a hill in Italy was shot from the moving Renault
We were headed for the Mont Blanc tunnel and toward Geneva. The scenery was wonderful and the roads remained almost traffic free.

This is the view from the Italian side just before you enter the Mont Blanc tunnel
We weren't sure whether we would actually enter Switzerland, but as it turned out we skirted Geneva and did not get to add another country to our list of places visited. The scenery in this part of France was as lovely as it had been in Italy and the roads were similar as well. The traffic did pick up a bit after we got further into France and turned northward again. But by then we were fairly close to our destination. Antonella took us right to the hotel we had selected and we were able to get a nice room for a reasonable price. We were both rather tired so we took a bit of a nap to recharge our batteries.
The restaurant near the hotel was rather pricey and the roads and walkways were under some construction, so we drove into the center of town to look for other places to eat and the have a more desirable place to stroll around. We were very pleasantly surprised to find that Beaune is a lovely town with some pretty buildings, plenty of flower boxes, and some nice pedestrian areas. We found a restaurant that had a good menu and acceptable prices and went for a walk around the town before going to dinner.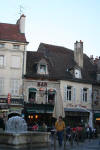 Beaune is a lovely French town not far from Dijon
Beaune is in the Burgundy region of France and wine is the raison d'etre. Beaune has many 'caves' or wine cellars, where you can taste and buy the local wine - we must have walked past at least 20 of these establishments in less than 1/2 hour. We know nothing about French wine - it has always been a subject too intimidating for us, so we've never made an effort to learn, but for the true connoisseur, this must be a little bit of heaven. We concluded we'd like to come back to this town and this region 'someday' because it is so pretty and there are a lot of interesting things to see and do here, including some very interesting archeological sites.
The bells in the church steeple rang out 7:00 PM and we went back to the restaurant. The dinner consisted of an aperitif of cassis with some olives and peanuts to munch, a starter of poached eggs in a red wine sauce, roast lamb with veg, a plate of several cheeses, and a desert sampler. A nice bottle of French Pinot Noir and a cup of coffee made the meal complete.
We had an English couple seated to one side of us and a French couple to the other side. Near the end of the meal the conversations erupted and made the evening all the more enjoyable.
We have come to expect that in France you have to ask for the bill and that you are never rushed. It was rather a surprise when my dessert was whisked away before I had completed it - I was engrossed in conversation with the French couple next to us - and the bill was presently, rung up and receipted before I had asked for it. It was almost like they were trying to turn the tables for the next shift - shades of the Olive Garden and Red Lobster! However, the meal was delicious and we took over two hours to enjoy it.
Monday - October 10 - Beaune to Paris
We awoke in Beaune to a cool and foggy morning. We had spotted some patisseries in town the prior evening, so after showers and packing we drove into the town center in search of breakfast and a sandwich for a picnic lunch. We found breakfast, but the pastries were not like the wonderful brioche we had in Stazzo and cafe au lait just isn't the same as a cappuccino. Still, it was a nice way to start the day. We also found a very nice baguette with jambon et fromage. With lunch in hand we programmed Antonella to take us back to Paris and the Renault facility.
We had gotten an early start so there was no rush. We cruised along at a leisurely pace, enjoying a lovely part of France. The leaves had started to change color, there was very little traffic on the autoroute, and all was well. We stopped for enough additional petrol to get us back to Paris (with a sufficient cushion) and arrived at Renault around 1:00. Once the process of turning in the car was started we called Douglas and he set out to pick us up. We had put some 11,560 kilometers on the Renault in about eight weeks. I suspect that when we get back home we won't complain about gasoline at $3.00 a gallon.
Douglas took us to the hotel where we had stayed when in Paris in mid-August. We got checked in and then went to the Hallawell's flat. Kathie was there and the reunion was delightful. Sophie was not yet home from university (her first day). We chatted for a while, then Mel set off for a walk in the park near the hotel (about five minutes from the Hallawell's flat) and Douglas and I climbed in his Morgan and were off for a lap or two around the Arche de Triomphe.
The Paris traffic would get to me if I had to drive here very much, but Douglas is used to it. We made two laps around the Arche (really annoying an overly aggressive motor scooter rider) before heading off to see more of Paris. We made a stop at a restaurant where the local Morgan club meets and had a cup of coffee while chatting with the owner. Douglas took me back to the hotel and Mel arrived a few minutes later.
In the evening we walked over the the Hallawell's flat and saw Sophie (now home from university) and had a glass of wine before going out to dinner. The traffic and crazy one-way streets in Paris conspired against Douglas, but we eventually found a parking spot and the restaurant and had a very nice dinner. By the time we got back to the hotel it was nearing midnight and we were exhausted. We went straight to bed to get our last night's sleep away from home on this very long journey.
I must try to describe the restaurant - it was very Parisian - the decor was Art Neuveaux - all sort of early 20th century - with lovely velvet benches and great skylights, mirrors and lights - the sort of place one imagines used in a mystery film setting - the lovely lady with the slightly shady incident in her past meets the detective who will save her virtue. Or a love story. The neighborhood was also interesting - Pakistani, Turkish, African with a French flair. The food was wonderful - Douglas, Kathie and I had a beautiful fish that Kathie says her father used to catch when she was growing up in the Loire valley (I'll have to get Douglas to remind me of the name - it isn't something we get in the US). I had a really nice salad as a starter - escarole and bacon, with a tiny little soft boiled egg that fooled me at first - I'm still in the Italian mode - it looked for all the world like a bit of fresh mozzarella to me until I cut into it.
Sophie's first day at university must have been quite an experience - she is taking Economics, Italian and English, which includes English culture (therefore, history). Tom and I tried to describe the six wives of Henry VIII to her, but I think she was a little overwhelmed by Ann Boleyn being beheaded by a special sword sent over from Calais. Also, her Economics class was overwhelming non-white in a predominately white nation. Interesting.
Tuesday - October 11 - Paris to Seattle
We had set the alarm for a 7:00 AM wakeup and were ever so thrilled when it went off. Up and shower and finish packing and we made it down to check out just before Douglas arrived to pick us up. We stopped at a patisserie to pick up some things for breakfast and returned to the Hallawell's flat. We had our last breakfast away, said goodbye to Kathie, and were off to the airport. There we said our goodbyes to Douglas and checked in for our flight.
The flight was a little late getting away from the gate because they realized they hadn't loaded all the luggage containers. Better then than later. Soon enough we were airborne. Our arrival at SeaTac was very smooth and we got through Immigration and Customs quickly. We caught the bus back to Lakewood and our good friend Shirley was there to pick us up. She took us to the supermarket to pick up a few groceries and then home. Everything was fine except that there were a couple of six foot tall dandelions growing in the flower bed in front of the den window. The true extent of the weeds will be seen tomorrow.
What a trip this has been! I can't really call it a vacation or holiday, because three months is longer than most. It also is not the 'Grand Tour' of early 20th century, late 19th century England when the upper and upper-middle classes went to Italy to get a dose of 'culture'.
Although we would never permanently move to Europe - economics prohibit - we do enjoy European travels, particularly as our Italian gets better (and, hopefully, my French - I now have new found inspiration to study!).
Next adventure? A short trip to Southern California early next year to fulfill my promise to Tom that he will always have at least a week (What??!!! Only one week??!!!) away from Washington winters; a drive in Moggie across the United States, including a stop at Mog 36; and a trip to South Africa. Stay tuned.