A Week in Ireland with TTS (Tom the Son)
Monday - August 8 - Lytham to Cork
We had a flight from Blackpool to Dublin on Ryan Air. Mike and Pauline led us to the Avis return, then took us to the airport. Our flight was supposed to leave at 1:00 p.m. but was delayed about 1/2 hour. In the meantime we endured the worst bunch of pre-teenagers we've ever seen in our lives - they had a lot of energy and no discipline. Then we went through immigration - the usual collection of rude bureaucrats - I've yet to see a smiling bureaucrat in Ireland. I always thought that the Irish were famous for their hospitality?
We picked up the car - a Ford Focus sedan (saloon in Brit speak) which was horrible - we had to remove the headrests so Tom could see the blind spots. It took at least three hours to drive to Cork - the traffic was awful. It went through small towns and there were tractors every where. I really don't like this part of Ireland.
However, we drove to the apartment of TTS without any problems. It was so good to see TTS. He has a nice flat not far from the shopping area of Cork - only problem is the hill you have to go down (and return up hill with groceries). TTS and I walked down to town and got supplies for dinner and breakfast the next day.
Tom's sister's birthday is August 9, so we called her a day early to wish her a good day, It has been in the 90's there - cooled down from the previous week. It will be amazing if we have temps in the 70s in Ireland!
TTS and I cooked a meal of Stilton chicken, rice and carrots, with raspberries and cream for dessert. We had lovely New Zealand wine with dinner.
It is so wonderful to see TTS. We are rather fond of him.
Tuesday - August 9 - Cork to Belfast
The drive to Belfast was awful. We stopped in Dublin to exchange cars - Tom hates the Focus sedan. We got a Focus hatchback, which is a nice little car.
Traffic south of Dublin is terrible. North, it is not so bad.
We got to Belfast without a map, except for a simplistic one in the guide book. Belfast, where none of us has been before, is a strange city. There aren't that many old buildings, making it unusual for Europe. I believe that it was bombed pretty severely during WWII - it is an important ship building center - the Titanic was built here. The population is young, tattooed, pierced and dyed. As you leave the city center, you enter the area populated by Ulster people. There are Union Jacks, Ulster flags and murals to the beloved departed in certain parts of the town. I don't want to take a position on the 'troubles' but it does seem to me that there aren't a lot of IRA sympathizers in Belfast. So, why don't they just go away and let people live in peace? Gerry Adams has made yet another declaration of disarmament, but I'm skeptical - seems to me they've done this many times before, but then it is followed by more violence. I don't think it is a 'religious' conflict. It is a bunch of thugs against a bunch of thugs.

This is a bit blurry as it was taken from the car while driving in Belfast, but it is one of the several walls we saw painted with Unionist slogans
Our lodging is outside of Belfast central. It is a small B & B - about 5 rooms to let.
We had a wonderful Indian meal at a small restaurant. That's ironic, think of it. India has had so many 'religious' conflicts you can't even number them. I think of myself as a Christian, yet I get really angry at the horrible things that are done in the name of religion. If the world were right, the religious, Christian, Muslim, Jew, Hindu, etc. would be making peace, not inflicting pain and death on those who don't agree with their particular point of view.
Wednesday - August 10 - Belfast to Giant's Causeway
We left reasonably early and drove to Giant's Causeway, a World Heritage Site. The drive was uneventful, but I had to observe the many towns displaying the Union Jack and Ulster flags I saw one flag of the Republic of Ireland, If the people want to continue their association with Britain, why in the world does the IRA and Sinn Fein continue to insist on promoting violence? This doesn't make any sense to me.
We parked at the Giant's Causeway and went to the Visitors' Center where we watched a film about how the very strange formations were created. Then we walked - what a fantastic area, although, in honesty, not as interesting as the Burren in Ireland. I was particularly pleased that I was able to navigate the paths with little help. It has been less than three months since I broke my ankle.

The Pipe Organ at Giant's Causeway
This is a wonderful area - TTS and TTF did a bit more exploring than I was able - here are some pictures of them on the rocks, which are generally hexagonal shaped, but not all. In theory, the strange rocks where created from the sudden cooling of volcanic eruptions beneath the sea, but no one knows for sure.

TTS and TTF climb up the rocks at the Giant's Causeway

More hexagonal rocks at Giant's Causeway
We stopped in the town of Bushmills for lunch (indifferent) and then went to the oldest licensed distillery in the world, where we bought some chocolates as gifts.
Next stop was the rope bridge called 'Carrick-A-Rede'. This is a bridge that connects the mainland to a tiny island and has been erected for centuries by fishermen who wanted to set up nets. We parked right next to a 35th Anniversary Morgan Plus 8 in colors very similar to our Moggie. I do miss our Moggie - she is far more exciting than a Ford Focus, although not practical for three people.

A 35th Anniversary Plus 8 in the same colors as our Moggie
We were all a bit nervous about crossing water 80' above the sea and a 60' span. We were all fine, although had anyone decided to be 'funny' and start jumping up and down, we would have been a little nervous.

Small island off the coast of Ireland - we love the way the fog hung on the top of it

Yes, we did cross this rope bridge

See - there she is, crossing the rope bridge

TTS ahead of Mel on the way back

The water below the rope bridge - it looks so Mediterranean, yet this is the North Sea - brrrrr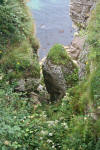 A shot of the water near the rope bridge
Afterwards, we drove back to Belfast, returning to our B & B. We had dinner in the local pub - it was too much food, as usual. I wonder who eats all this stuff?
The neighbor next to the B & B seems to think he has a claim on the street, so he was furious when Tom parked in front of his house. Sam, our host, had a face off with him. I don't think I'd mess with Sam! He's a big guy, and doesn't let anyone push him around.
Thursday - August 11 - Belfast to Slane
The day dawned rather gray. After breakfast we went into Belfast to a shopping mall - it is owned by the same company that owns the town center mall in Auckland, New Zealand. Hmmmm. That's interesting.
Tom got the computer hooked up to the Internet and took care of finances. I tried to order a gift for Pauline and Mike from Fortnam and Mason but once I got through all the order form, got an error message. Drat.
We headed back toward the Republic of Ireland. We stopped first in the little town of Lisburn. I had read a squib about the linen museum there. We eventually found the museum - not without some difficulty. It was wonderful! There was a very nice man in the first display room who explained all about linen - how the flax is harvested (it is a lovely plant with pretty blue flowers - no longer grown in Ireland, but in the Baltics these days). The flax fiber is separated from the rest of the plant, then soaked and the unusable parts separated from the long strands. It is very strong. They had a little spinning wheel set up and Tom and I took turns at trying our hand at spinning. I've always liked linen - it is a beautiful, versatile fabric (but a pain to iron!). There were displays of the many forms of linen - canvas to fine linen suitable for royalty. This is a free museum and one of the best we've seen. Interesting - we've seen many of the best art museums in the western world, many of the best cathedrals and castles, now we seem to go in for industrial history.
We had a light lunch in the museum cafeteria, then drove down to the Republic of Ireland and our home for four days, a self-catering cottage at Slane Farm. I love the little cottage - it is bright and airy. The kitchen is fairly well equipped - could have a bit more in the way of pots and pans, but we have a microwave, toaster, fridge and range. And private parking. And a little laundry room that is part of the overall facility. I'm a little concerned about all the sheep - they are noisy! I wonder what time they start their 'baaaaaing' in the morning. Hopefully they sleep in past 7:00.

Slane Farm - this is the cottages building
We made a shopping list and went into the nearest town that had a shopping center - a Tesco's. My goodness! What chaos! It is a large store, with everything from a small clothing department to fruits and vegetables. It was so darned noisy - I thought I was in Italy for a few minutes. The thing that is interesting is that food items you think as standard are just not available in Ireland. For example, Italian sausage and cannelini beans. We wanted to make pasta e fagioli one night, but that came a cropper. We are all really disgusted with Irish children - generally they are ill behaved and their mothers seem to ignore their tantrums. TTS says that he has observed this for the 10 months he has lived here.
Which leads to an observation about Ireland. For centuries the people here were so poor it was terrible. Americans, particularly those of Irish descent, think of Ireland as some sort of heaven. It isn't. There are areas of incredible beauty and often the people are wonderful. However, I think there are severe problems in this country in spite of the great affluence which has been brought about by the European Union pumping billions of Euro into the country over the past several years. The youth seem to be disaffected - they seem aimless and hostile. What would be a concern to me, if I were Irish, is that eventually the EU is going to have to pull the plug on the beneficence, and when that happens, will Ireland be able to cope on its own? There are still significant infrastructure problems here - the roads are terrible once about 25 miles from Dublin and the traffic south of Dublin is as bad as I've seen anywhere in Europe. Prices generally are outrageous. If the economy tanks after the EU stops pumping money into the country, what will happen to the disaffected youth who then can't find work?
However, that said, there are wonderful things to see and do in this little country. Tomorrow we will explore what is essentially the cradle of Irish civilization, Newgrange and Knowth (rhymes with 'mouth').
Friday - August 12 - Around Slane
We had a bit of a false start today - we set of in the general direction of Newgrange, but we were on the wrong road and had several wrong turns. Eventually we asked a bus driver for directions and he pointed us in the right direction.
When I speak of Newgrange, I mean the monuments of Newgrange and Knowth, which combine to make a World Heritage Site. It is very well done. Because the site is so popular, management has come up with a scheme for managing the number of people who come through. Upon entry, you are given a time to view either of the sites - you are not allowed to board the buses to the sites until your appointed time. After about 5:00 p.m. they no longer admit people, so if you don't get to the site in time to get a place on the day's tours, you are out of luck. As a result, there are only about 40 people per 1/2 hour allowed at either site, making it relatively uncrowded. The bus takes you to the sites, which are a bit far to walk. Admission includes a tour by a knowledgeable guide.
Fortunately, we got to Newgrange early, so we only had a 1/2 hour delay, then we boarded the bus to Knowth. None of us was really sure what to expect - even though we had read the guide books, we really couldn't visualize the site from the descriptions. I'll try to do it justice.
Knowth and Newgrange are burial sites of Neolithic peoples - about 3000 years BC, making them 5000 years old. Essentially they involve some very elaborate rock constructions which cover passageways. While we don't know who was buried in either, there is a theory that Knowth was the burial place of kings. Each monument took in excess of 50 years to construct at a time that the average person lived about 35 years, so they wouldn't have been built for the 'average Joe.' There are, however, many smaller monuments, which could have been built for less important people.

Reconstructed circle at Knowth - this was probably ceremonial for funerals

One of the smaller passage tombs

Entry to the large passage tomb at Knowth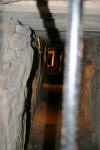 Looking down the passage into the center of the tomb at Knowth

The River Boyne as seen from Knowth
You can't go into the mound at Knowth, although going into the burial chamber at Newgrange is certainly the highlight of the day - imagine going inside a 5000 year old burial chamber - complete with 19th century graffiti, for this area was not explored until a few hundred years ago and it wasn't declared an important site until early in the 20th century. Therefore, some of the artifacts and human remains were removed. Newgrange is also interesting in that there is a 'window' through which light comes into the tomb on the winter solstice. I suspect the Druids apply for the lottery to be in the chamber during the solstice - they probably try to claim ownership of Newgrange just like they do Stonehenge, even though there isn't any evidence of their existence as far back as either monument was constructed. Newgrange and Knowth predate Stonehenge and the pyramid at Giza.

This is sort of a heelstone at Grange (somewhat like those at Stonehenge)

Newgrange - the archeologist who excavated it thought that the quartz rocks were probably a fascia to the tomb, but others have disputed this
We tried to make sense of the various carvings in the rocks, but that was pretty hopeless. Let's face it - archeologists have no idea, so why should we?

Carvings on rocks at Knowth - who knows what they mean

More carvings - this time at Newgrange
What makes Knowth especially interesting is that after the Neolithic people, the site was uninhabited for a few thousand years. Then, the Celts started inhabiting the site - it is elevated enough above the valley that they would be able to see any potential enemies approaching. Then the early Christians inhabited the area and finally the Normans. Each contributed to the degradation of the site and left behind artifacts of their inhabitation. I'll bet that archeologists are in their seventh heaven when they are on a dig at such a place.
When we were at the Visitors' Center we noticed a UNESCO World Heritage Site map - it showed the geographical location of the World Heritage Sites in the world - the Taj Mahal, Hadrian's Wall, the Great Wall of China, etc. It had a listing by country, If we were wealthy, we'd buy such a map and try to see each one of the sites. Alas and alack, that's probably beyond our means. It would be fun, though!
Saturday - August 13 - Around Slane
No false starts today, although the shower was acting up. It is a strange device as showers go. The shower head is high on the wall and there is only a large push button for a control. You push the button and the shower starts up. The water is fairly hot. In short order the shower stops. So taking a shower consists of periodically pushing the button; except this morning. TTS was part way through his shower and the water just kept coming. He couldn't get it to turn off. So I started my shower and still the water kept coming. I tried banging on the wall around the control, but that did no good. I tried holding the button in for several seconds, but that didn't seem to do anything either. Finally I just got out and started drying. Then the water stopped. Oh well.
After breakfast we headed for Trim to see Trim Castle. We made no false turns and parked right next to the castle. The tour guide took us through the keep, the large central structure. It was built by Norman lord Hugh de Lacy in the late 1100s. It was enlarged several time by Hugh and his son Walter, and was the largest Norman castle in Ireland. The guide was quite good and the tour was very interesting.
The castle was used in the filming of Braveheart and was reopened to the public in 2000 after much restoration.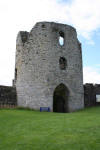 The Barbican gate in Trim Castle
From the top of the keep one can see the ruins of a church that was built by people who had created a separate town outside the castle walls in order to avoid the tolls collected for entry through the castle walls.

Ruins of a church in the area outside the castle walls of Trim
It is also possible to see the Hill of Tara in the distance. The Hill of Tara was the royal seat of the high kings of Ireland before Christianity came to Ireland.

The Hill of Tara as seen from Trim Castle
We did have a bit of difficulty finding Bective Abbey. Although there are signs for the abbey, you can drive right past it and not see it. It turns out that it is not open to the public, although there are plans to open it. We finally did find it and took a picture through the locked gates.

Bective Abbey is not open to the public at this time - this shot is from the road
From the abbey we drove to the Hill of Tara. It is a large hilltop with a number of mounds, a Celtic cross, a statue of St. Patrick, and a fantastic view of the surrounding countryside. We walked around the hilltop (very carefully, as it is not level and there is evidence that cattle, sheep and goats roam freely at times) and took a few pictures before heading for Navan and lunch.

TTS and Mel and a Celtic Cross atop Tara Hill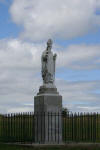 The statue of St. Patrick atop Tara Hill
We drove to Kells after lunch, but there was really not much to see there so we drove back to the cottage for an early end to another day of sightseeing.
Sunday - August 14 - Laundry and a drive in the country
As this was our last full day in Ireland, we needed to get organized for an early rise on Monday for the flight to Paris. We spent the morning doing laundry, then went on a nice drive to explore the countryside between Slane and a small town called Carlingford - this is an area north and slightly east of Dublin. It is generally farmland, with some small towns dotting the countryside. The reason we decided to go to Carlingford is that Frommer's guide book proclaims it one of the prettiest small towns in Ireland. It is charming, indeed, with medieval ruins scattered about - the man who built Trim Castle was also responsible for the castle in Carlingford.
It was rather nice to have a day with no particular place to go, and certainly no hurries and no worries, with the minor exception that we have picked up some scratches on the front left bumper and are a little worried that Avis will decide we have to pay for them!