A Week in Rome near The Vatican
Saturday - September 3 - Torri (near Firenze) to Roma
By the time we were up and moving about this morning, the young German couple had already left - may have done yesterday. The older German couple upstairs were having breakfast on their landing when I went out to take the clothes drying rack back to the laundry room. We had exchanged 'buon giornos' before, and did so again this morning. I then asked 'partite oggi' (are you leaving today) and they sheepishly asked that I use English.
We had our breakfast, showered, and finished packing and loaded the car. We were away by about 9:30 and had already programmed Antonella to take us to Roma, with a stop in Montepulciano on the way. At that stop we were able to upload the latest version of our travel journal, so are up to date through yesterday. We also checked email and financial transactions.
Back on the road, we continued toward Roma with a stop at a service area to eat our lunch of sandwiches made from leftover drunken pork. We had expected to get to our apartment in Roma about 2:00 PM and were only a few minutes late. It turns out that there is on-street parking along Via Germanico, but for non-residents it costs 1 Euro per hour from 8:00 AM to 8:00 PM. As we had budgeted 20 Euro per day in a garage, we will be money ahead. We had also expected to spend the entire week in Roma, but have decided to take one or two day trips out. We met Signora Musacchio and got settled into the apartment before heading out to do a little shopping. At this point I'll turn it back over to Mel.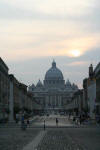 St. Peter's Basilica as seen from in front of Castel Sant'Angello

Castel Sant'Angello and the Tiber - Tosca would never have made it (Puccini's last act of Tosca has the heroine leaping from the top of the Castel into the Tiber with a defiant 'Scarpia - Avanti a Dio' (Scarpia - we meet before God))
Roma is certainly more frenetic than Toscana! The traffic and noise are notorious. We were surprised at how poor the road surfaces are in the town. Of course, two lane roads are made into three lane ones by the crazy drivers, and the motorinos sidle in-between. There is a lot of construction (this place must be a building contractor's worst nightmare. Imagine getting your crew on site, starting to dig and finding an ancient Roman temple beneath). We were so glad we had Antonella, because she was able to maneuver us around some of the trickier spots. This is not a city that has been set up on a grid plan!
There is a lot of graffiti on the buildings, a mix of political, gang tags and 'Ti amo Princepessa' (I love you, Princess). There is litter, but it is mostly paper and very little by way of doggie doo.
Our apartment couldn't be in a better location. We are about 10 blocks from the Vatican, on a side street, so we don't have a lot of traffic noise. The apartment has three rooms (living room, bedroom, kitchen). The kitchen is really small and it isn't what the Brits would call a 'fitted kitchen'. I would call it a retro-fitted kitchen - a small stove and fridge (which serves as a countertop) and a little work area next to the sink. There aren't any cupboards, only one shelf where the dishes and pots and pans are stored. I've had to stack all the food on the table and we are eating at the table in the living room. I was a bit grumbly about this when trying to cook dinner. Tom reminded me that the kitchen we had in Copenhagen was virtually identical and I lived with it for a year.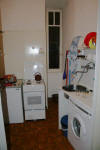 The kitchen in our apartment - reach out and touch everything
However, the location, quiet and air-conditioning! make up for it. It is hot and steamy in Roma. I don't think we would sleep at all if it weren't for the air-conditioning. Going out of the apartment onto the street is like walking into a steam room.
Shopping is reasonably close to the apartment - since the fridge is so small, we'll be buying food for two days at a time (more shades of our life in Copenhagen). There is also a sort of farmers' market within a few blocks, but it was closed by the time we got there, so we did all of our shopping at the supermercato.
We walked over to the Castel Sant'Angelo in the evening to get the lay of the land. We've never been inside this former Papal Palace, so we are putting it on our list of things to see. In times when the Popes were having difficulties (wars, insurrections, etc.) they would hustle along the specially constructed passageway between the Vatican and Castel and take position in the later, reasonably safe from their enemies.
We have put together a sight-seeing itinerary that will give us a fairly leisurely place. We'll take in some of the things we've seen before but skip others, like the Roman Forum. We've also identified some sights that we haven't seen before, or have completely forgotten. Also, to give our feet a break, we are going to do a couple of day trips in the car.
Sunday - September 4 - Sightseeing in Roma
There is no doubt about it - Roma is one of the great cities of the world. It isn't nearly as big as London (about 7 million) or Paris (about 10 million) but it has always reminded me of an onion - peel back one layer of history and you are confronted with another.
We had hoped to attend Mass at St. Peter's, this being Sunday, but the queue was very long and already at 10:00 a.m. it was getting warm. That plan having failed (Mass is said several times a day, every day, so we'll have other opportunities) we returned to our flat, called TTS to make sure we were aligned with his plans to come to Sicily in a few weeks, then set off for the center of Roma. We decided to use the Metro - it is fast, clean efficient (once you figure out the completely counter-intuitive ticket validation machines). We took the Metro four stops to Piazza Barberini, which is closest to the famous Trevi Fountain. We didn't see Anita Eckberg frolicking in the fountain (just as well, she hasn't aged well since 'La Dolce Vita') but we saw hundreds of tourists and a couple of guys dressed up as gladiators, waiting to have their picture taken with tourists (we've read that they can be pretty mean - the unsuspecting tourist may think they are only going to ask for a Euro or two, but they will stiff the meeker ones for up to €100.
We didn't throw the traditional coin into the fountain - neither of us had small change and we aren't about to pitch something more than a few cents based on superstition.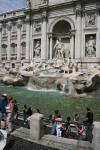 Trevi Fountain - it was mobbed by tourists, beggars and gladiators
We continued our hike, next to the Pantheon. This place is incredible. It was originally built by the Romans between AD 119-128. Yes, it is that old. I read that until the 20th century it was the largest concrete dome in the world. It was a pagan temple, then became a Christian one in 609. It has a huge hole in the dome, the Oculus, which causes interesting light to fall on places in the interior.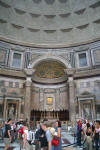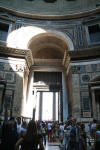 The Pantheon - exterior is completely out of place. Interior, the altar and the entry with the light from the Oculus
Onward to the Piazza Navona. There are a couple of Bernini fountains here, but the most interesting 'bits' were covered in scaffolding, so we didn't save any of the pictures. There are two things that happen here that make this place special. The first is this is the place where Romans congregate for their nightly 'passagiata', an Italian ritual in almost every village, town and city. I love the passagiata - people dress to be seen, and stroll around to greet their friends and neighbors and maybe arrange an assignation or courtship (depending on their situation). We haven't been able to observe one yet this trip - our lodging in Tuscany was too far removed from any village, and Roma is just too big, but maybe in future weeks we'll be able to. The second thing is during Epiphany there is a Befana Fair - she is the old crone who brings presents to Italian children - we both love the legend of Befana - she has a poem that goes with her about her 'broken shoes' and how she sweeps. Hard to explain, you just need to look up Befana on the web.
Continuing our stroll, after a bite to eat, we went to the Castel Sant'Angelo, previously mentioned. This time we went in, walked the ramps and climbed the steps. It is ugly and overwhelming, but it has witnessed an incredible amount of history. There is apparently a cheesy performance of the last act of 'Tosca' there several times a day (I wonder if she throws herself into the Tiber?). However, ugly as it is, it is pretty impressive to think that this place has played an important part in Roman, Italian and Western civilization for nearly 2000 years.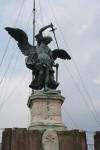 The Castel Sant'Angelo. The Angel is Michael, said to have delivered a message to the Pope in the Middle Ages that the plague would end.

The Palace of Justice, near the Castel Sant'Angelo



Views from the top of Castel Sant'Angelo - these are pictures of the Vatican. The last picture is the passage way built so the Popes could escape from the Vatican to the Castel. Tom thinks that some of them must have had a close thing doing so - it is a long way.

This is the Monumento a Vittorio Emanuele II This thing is really ugly!

Paris has its 'Paris Plage' now Roma has its 'Spiagia da Roma' - an artificial beach on the Tiber.
We returned to our flat, footsore and tired. It is hot in Roma and there is a hint of a shower (which would be welcomed, it would clear the air). We decided to take a siesta - very civilized habit.
I couldn't face the micro-kitchen tonight, so we set off in search of dinner around 7:00. Our first destination was nearby, but it was closed because it is Sunday. We decided to throw caution to the wind and went to an Indian restaurant (in Roma - you must be crazy!) We have eaten "Indian" in many cities and generally, we have been pleased. What a surprise - our meal tonight at the Shanti on Via Fabio Massimo was really good - we had pekora for starters (little fritters of chicken); papadum (a sort of cracker made from chick pea flour); garlic naan (Indian flatbread), a 'butter' chicken (it has coconut in it, don't know what else) and a biryani (lamb curry). It was interesting watching the Italians deal with Indian - their language and culture don't lend themselves to words like 'naan'. Anyway, we were pleased. We'll try one of the traditional places later this week. And, today, we noticed a rosticerria (place where they sell previously cooked roasts, arancia (little bits of rice and meat rolled up and fried) and other treats). It will make the micro-kitchen that much easier. We'll be able to supplement our purchases with nice fresh salads and vegetables, so all will be well.
It is close to 10:00 p.m. and the threatened rain has become a reality - we hear thunder off in the distance and the rain is coming down such that we hope the drainage is good, otherwise, the courtyard is going to fill up and we'll be underwater!
Tomorrow, more adventures on foot. We are leaving a lot of shoe leather in Europe.
Monday - September 5 - Sightseeing in Roma
We left a lot of shoe leather on the streets of Roma today. We took the Metro to the Colosseo stop (near the Colosseum) and walked to the church of St. Peter in Chains (San Pietro in Vincoli). There are two attractions here - the first is Michelangelo's incredible sculpture of Moses; the second is the chains that were supposed to have held St. Peter in captivity during his incarceration (before his martyrdom in Roma). We were here in 1975 or '76 and had the church all to ourselves. Things have changed - there are so many tourists in Roma now that you can't have anything to yourself. However, this does not diminish the impact of either of these sites. The Moses is so incredible - he has received the Ten Commandments from God and now must, by will, bring the Israelites to accept and follow them. Interestingly, the 'horns' on his head are said to be a result of a misinterpretation of the Bible, where 'halo' was mistaken for 'horns.' I love the power of this statue - I expect that Moses will rise any moment now and beseech the people to follow God's Commandments.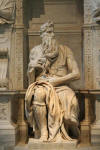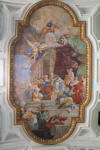 Michelangelo's wonderful sculpture of Moses (note the horns), the altar, St. Peter's chains, and the ceiling fresco showing St. Peter in chains
Onward to another church, this one very little known and fascinating - it is called the Basilica of San Clemente. From the road, it appears to be a modest doorway leading to nothing particularly special. The facade is Baroque, which would place it in the 18th Century. Inside is a basilica of the 12th century. Unfortunately, there is a lot of work going on presently to add lighting, security and sound systems. However, we bought tickets to the excavations. Down a level into the excavations and you come upon a basilica from the year 313. Farther down (getting deeper and deeper into the ground) you come upon excavations from about 2000 years ago, including a temple from a cult to the pagan god Mithras. This is so illustrative of Roma - dig deeper and deeper and you find another civilization.


The altar at San Clemente and the modest entrance

Driving in Roma is terrible - some people apparently own cars but never bother taking them out - notice the debris and flat tires
We had a bite of lunch then made our way to the Colosseum. We didn't want to go into the structure (we had done so previously), but it was on the way to the Roman Forum and the Carcere Mamertino. The Colosseum is fantastic, there is no doubt, but the litter around it was pretty disgusting and it was hot. However, if you can let your imagination go, this place is fantastic. Think of this enormous building covered in marble, with crowds of people waiting for the 'entertainment'. Beyond the fantasy is the engineering marvel that this must have been (I read that there were sailors who had the job of hoisting awnings over the crowds to protect them from the sun - the original 'domed stadium')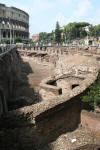 Various shots of the Colosseum. It is a shell within a shell - how it must have awed people when it was faced with marble! The holes in the concrete were where the marble was secured.

OK, now for some 21st Century kitsch - here are some 'gladiators' and some buffoon playing as a gladiator. The Caesar in the background is a bit disinterested (we saw him later lighting up his cigarette - can you imagine the advertising campaign - Caesar smokes Marlboroughs - shouldn't you? A man's cigarette!)
On to the Foro Romano - Roman Forum. This is a really confusing place because it is so much rubble. It was used as a quarry for centuries - so pieces of buildings that were once covered in marble and carvings were carted off to be put to some other purpose. We tried to follow the road and figure out what was what, but it is too confusing!

This is Constantine's arch - he was the first Christian Roman emperor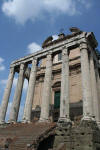 Basilica Aemilia - a basilica was where people went to settle legal matters

We couldn't figure out what this was!


Left is a view of the church of SS Luca et Martina; right is a picture of the Forum and the same church
We crossed the Foro Romano and went into the Carcere Mamertino - this is a pretty grim place - it was the prison where early Christian martyrs were incarcerated, including Sts. Peter and Paul. The prisoners were lowered through a hole - about the size of your average city drain cover, into the prison below where they were held with 50 or more others - and the rats. Miraculously, a spring appeared in the prison and prisoners were baptized here. The altar in the prison has an upside-down cross inscribed in the front, since St. Peter was crucified upside-down. The level above has a small chapel with a list of some of the prisoners and how they met their deaths - beheading, starvation, torture, strangulation. The Romans tried their best to wipe out the guttersnipe religion of Christianity!

The Foro Romano with the Colosseum in the background
Walking on more (and it was really hot, so we took advantage of one of the many water fountains in Rome and dowsed ourselves with cool water) we came to two small sites that aren't well known - the first is a beautifully preserved Temple of Fortuna Virilis; the second is the Temple of Vesta. Just across the street, located on a portico of a church, is the statue that is referred to as 'La Bocca della Verita' or 'the mouth of truth' - in medieval times oaths were sworn here - if you put your hand in the mouth and the statue chomped off your fingers, obviously you were lying!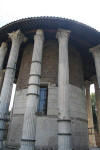 Left: Temple of Fortuna Virilis. Right: Temple of Vesta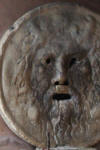 La Bocca della Verita - don't lie around this guy or you may end up short some fingers!
We made our way (painfully) back to the Metro along the Circus Maximus which is nothing but an empty field (no Las Vegas glitter here!) and took the Metro home. Another thunder storm started brewing, so our planned trip to the neighborhood rosticceria was thwarted. Domani, as they say!
Tuesday - September 6 - Roma to Orvietto and Civita Bagnoregio
To give ourselves a break from laying shoe leather on Roman cobbles, we decided on a day-trip today, north, to Orvieto and Civita Bagnoregio, in Umbria. First, we had some fruit, juice and coffee in the flat, then went out in search of a pasticeria (pastry shop) where we each had a pastry and a cappuccino. What a civilized way to start the day. We are finally getting the hang of bars and pasticerie - you decide what you want, pay at the cash register, present your receipt and then order. Standing at the bar is cheaper than table service. Italians come in, pay, order, eat and are gone in a matter of minutes.
Antonella tried to navigate us out of town, but there was construction and we took a wrong turn. Rather than following her instructions, which involved a U-turn, we went a bit out of our way (the U-turn would have put us into the teeth of some very heavy traffic). We arrived in Orvieto a bit before noon. We had planned on parking below the cliff and take the funicular up, but we somehow missed the turn to the parking lot for the funicular and ended up on the plateau on which the town is built - no harm. there was plenty of parking - tourist season is winding down. We see/hear fewer Americans. As a matter of fact, the tourists now are mostly Italian.
Orvieto has several claims to fame - some fantastic Etruscan tombs carved into the rock on which the town is perched, excellent 'Orvieto Classico' wine and a stunning Cathedral. We had previously been in the tombs and the Cathedral, but we wanted to walk around the town a bit and savor the unique alleys and piazzas. Along the way, we found a little internet spot and checked up on finances and e-mail. We had a bite at a little bar, then just walked around town, spending most of our time by the Cathedral. What an amazing sight this is - the entry way has wonderful mosaics and some first class carvings. See the pictures below:

A side view of the amazing cathedral at Orvieto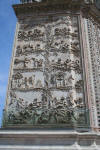 Carvings at the entry to the cathedral - on the left is the Creation - look closely and you can see themes like the expulsion from the Garden of Eden. On the right, the Last Judgment with the condemned being raked into Hell.



Views of the front to the cathedral - the rose window - look closely and you'll see some pictures of saints of the church in the corners of the framework. The Baptism of Christ in the middle, and the symbol of St. Mark (author of one of the Gospels) - a lion

Another Pulcinella - this time atop a building in Orvieto


Orvieto must also be a town of contrade - on one side of the street you are in the Quartiere of the Stelle (stars) on the other side in the Quartiere of Corsica. We didn't have enough information to find out what their contrade system is all about, but we did see some photos of their annual celebration in which men in costumes of the Middle Ages toss their flags.
We drove next to a small town about 20 km from Orvieto - Bagnoregio. It is from here that one walks to the village of Civita. At one time, this village had a University of Washington architecture program on the study of Italian hill towns. It appears to have been closed, but the signora in the bar where we stopped for a water said it was going to re-open next year (at least, I think that is what she said!). Civita has a unique setting, there is no doubt. The village itself isn't much - a few kilometers all around, some very old buildings and a few hearty souls who are scratching out a living from the tourist trade. For some reason, which is incomprehensible to me, the bridge linking Bagnoregio and Civita was destroyed during WWII. Why? This little village couldn't possibly have had strategic importance to anyone (I have no idea who destroyed the bridge, so this is not a political comment!)

To get to Civita, you have to walk across this bridge - it is a steep climb and you had better have sensible shoes
It was rather fun walking to the village for two reasons - we arrived at the parking lot in Bagnoregio which is the launching point for Civita at the same time as two carloads of Italian tourists. They were as baffled as we at the parking arrangements, so we let them figure it out and just listened in. Our Italian is such that we can understand the odd phrase and put together the concepts being communicated. Then, they started off to the village, we followed some distance behind. They got to the end of the bridge and wanted to have a group photo, but who would take it. Tom, by now very willing to try his Italian to just about anyone, volunteered to take the photo. Much laughter. One of the women said 'cheese' and I responded 'formaggio' and one of the men said 'polenta'. More laughter.
The village isn't much - a few buildings and several old women who are intent in eking out a living from the tourists. We were invited into the garden of one - we looked at the view of the village one hill over - Lubriano - it was lovely. The old lady had it worked out to a science - as we were leaving, she shook her pocket, full of change, to ask for a contribution for the privilege of looking at her garden.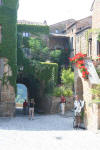 Tom takes a break in the little village of Civita


Views from Civita - on the left the desolate countryside (if you look carefully in the lower right, you will see a farmhouse in the midst of this desolation) and the hilltown of Lubriano on the right.
On the way back from Civita, we stopped at a little roadside shrine I had noticed previously. We have no idea why or what, but here, carved into the hill, is a shrine and altar to the Virgin Mary.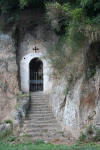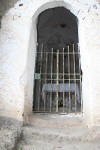 Roadside shrine on the way to Orvieto
The views of Orvieto on the road back down the hill were spectacular. We stopped and took a couple of photos, below. The Cathedral dominates the city. Notice the bell tower on the far right of the Cathedral - you can't really see it when you are in the town itself.
Our drive back to Roma was uneventful until we took a wrong turn (we have no idea how) and ended up about 8 km out of our way. It was pretty tense for a while - the traffic in Roma is notorious. However, we got back close to the apartment and found a parking spot in only about 5 minutes. I read that the average Italian spends one year of his life looking for parking spots!
OK, time to find something for dinner. I had read about an open-air market not far from the flat and a supermarket other than the COIN (pronounced as a two syllable word here - Co - IN). The supermarket was a joke and the open-air market, while enormous, was closed. I stopped at a salumeria (a shop that sells cheese, cured or prepared meats and other groceries - it is sort of a delicatessen) and bought some little sausages and then stopped at an alimentaria (sells some of the same thing that the salumeria does, but not as much by way of meat) and bought some salad fixings. One of the challenges of self catering is figuring out which shops sell what things and of the various shops, which have the better quality merchandise. I'm anxious to walk around the open-air market when it is opened and see what sort of goodies they have to offer. Maybe tomorrow, after we return from another day of leaving shoe leather on the streets of Roma.
Wednesday - September 7 - Sightseeing in Roma
We had reservations at the Borghese Gallery for 11:00 AM and had been told to 'present ourselves' at 10:30. So after breakfast and showers we headed for the Metropolitana station near our apartment. Three stops later we got off at Spagna and saw signs to the villa. We went up a long escalator, then along three long and climbing moving walkways, and finally up another long escalator. We emerged into daylight, looked around, and wondered, 'Where are we?' From the outside, the metro exit looked like a bomb shelter. There was a busy street alongside and a side street that led to parking for the villa. On our side of the street was a very scruffy looking park. We started into the park in the direction of the parking arrow and presently saw the balloon that is shown in the picture of the Palace of Justice above. We continued past the balloon and eventually came out to a street and signs pointing to the villa. We made it to the ticket desk in plenty of time.
They have a very interesting procedure at the Gallery. Your ticket shows an entry time and, two hours later, an exit time. They don't issue tickets to anyone without a reservation and everyone must check their bags, backpacks, etc. They limit the number of tickets sold for any entry time so the galleries are never crowded. Unfortunately, there were several groups of German tourists without audio units but with a guide who explained everything to them. I'm sure it was great for them, but for us it was distracting and rather annoying. The paintings and the sculptures in the galleries are marvelous. I'll leave it to Mel to describe some of them.
The collection in the Museo Borghese is excellent and the Palace itself, built specifically to house the collection, is beautiful. Interestingly, the collection was assembled by Cardinal Scipione Borghese, who was the nephew of Pope Paul IV. He must not have been on a budget, for what remains of the collection today is but a part of the original - some of it was sold off over the years. The top floor is devoted to paintings - a mix of Renaissance and Baroque. The lower floor is devoted to sculpture, with some painting thrown in for good measure. And what sculptures there are - some of the most famous of the works of Bernini - Apollo and Daphne, caught at the moment when Daphne is turning into a tree so she escapes Apollo's amorous advances; Bernini's David - a sort of 'action shot' of the young David at the moment he is preparing to propel his shot at Goliath; the Rape of Proserpina with the detestable three headed dog who guards the Underworld. The way Bernini has carved the flesh of Proserpina is incredible - Pluto's hand is pressing into the flesh, you can see the pressure points. Another very famous statue, from the 19th Century, is Pauline Borghese as 'Venus' - she was Napoleon's sister and, if this statue is to be believed, quite a beauty. There are many Roman and Greek statues interspersed - it provides a good comparison - for the most part, they are expressionless, idealized beauties without a soul.
After leaving the galleries, we decided to retrace our steps and take advantage of the moving walkways to get to the Spanish Steps. What a disappointment! They used to be very picturesque, with lots of flowers on them. Now there were no flowers, just hordes of tourists. There was nothing worth a photograph. As it was after 1:00, we went back into the Metro station and took the train back to our apartment. The train surfaces briefly between Spagna and our stop, and we could see that the sky looked very gray and threatening. When we got to our stop and made our way to the surface the sky was absolutely black and it was raining. Another Roman thunderstorm with fat rain drops. We got back to our apartment without getting very wet - the rain hadn't started in earnest yet - and heated some leftovers for lunch. By the time we sat down to lunch, the thunder was really impressive and the rain was falling in buckets into the courtyard outside our windows. Certainly hope it stops in time for us to go out to get something for dinner. But I'm afraid our sightseeing may be over for the day.
The rain (and thunder) finally stopped and we were able to get out to shop for dinner. We stopped by the indoor, open-stall market and picked up fruit for breakfast (raspberries, strawberries, and a banana). Our next stop was at the rosticceria we had visited previously. This time they had two different types of roast chicken and some roasted potatoes - (along with shelves of other enticing goodies - we must have been too early yesterday.) We purchased a chicken and some potatoes and headed for Coin to do the rest of our shopping. We couldn't find sour cream, so we decided to make a beef stew instead of stroganoff. With the remainder of our groceries in hand we mushed back to the flat. The stew has been cooked and will rest in the fridge until tomorrow night. The chicken and potatoes made a delicious meal, and there is plenty left over for lunch on Friday. Tomorrow it's off to the Adriatic coast for the first time. With any luck we will find a pleasant beach and sunshine.
Sour cream - panna acida was the translation I remembered. When I asked the clerk in the Coin for this, she was nearly overcome with laughter. Either my pronunciation, bad vocabulary or...maybe they don't have sour cream in Italy?
Thursday - September 8 - Roma to Francavilla al Mare
This day was to be another of our driving day trips. We programmed Antonella to take us to Pescara and set off on another adventure trying to find our way out of Roma. We had one trivial wrong turn that was easily remedied by a U turn and another shot at the roundabout. We had never seen the eastern part of Italy before and loved it. The scenery was very different from the western side. Pescara, on the other hand, was quite ugly. We reprogrammed Antonella to go down the coast to a little resort town a bit south of Pescara. Francavilla al Mare was not that great looking until we turned down to the road that parallels the beach. There it was another story. We found a parking spot and purchased a ticket at a stand on the beach. It was a sort of cafe and bar that was only selling drinks and parking tickets and spots to enjoy the beach, complete with lounges and umbrellas. I again had the opportunity to use my Italian and was quite pleased with the result. We got directions to a place where we could have lunch and away we went. As we went, a truck came down the street with a loud speaker advertising 'Circus Wigliams' and a trailer with a camel in it. We had seen the signs for 'Circus Wigliams' on the way in and got a kick out of the Italian spelling of Wigliams.

The beach at Francavilla al Mare
Lunch was rather pricier than normal, but we considered it a well-deserved splurge. We ate our lunch on an upstairs terrace overlooking the beach. The water is quite shallow and we saw several people walking in it up to their waists. The food and service were quite good. After lunch we retrieved our suits and towels from the car and went back to the fellow who sold us the parking ticket. I inquired and was told where we could change. They were public toilets - the women's a normal size that could be locked from the inside and the men's did double duty as the stall for the handicapped and I could see no way to lock the door. I laid out my things on the railings and did a quick, and uninterrupted, change. The nice man directed us to umbrella number 4 and we opened our lounges and stretched out. Unfortunately, clouds had started coming in and the sun was not very strong. I made a quick check of the water and found it to be cool enough to take some getting used to. With the sun being rather weak, I decided to pass. After some time in the weak sunshine, we returned to the toilets to change back into street clothes for the trip home. I put my shirt back on as I went and again laid out my things on the railings. After using the facilities, I removed my swimsuit. Before I could reach for my undershorts the door started to open. I had a quick glimpse of a woman as I was grabbing the bar and pulling the door closed. I have no idea just what she saw, what with my having my shirt on, but I considered it another interesting cultural experience.
We decided to take minor roads for the trip back to Roma. As we drove along one of those roads we saw a car from the Polizia Stradale at the side of the road. They signaled me to pull over. It turned out that I had forgotten to turn on my lights when we left Francavilla al Mare. It is Italian law that you must turn on your lights at any time that you are on the roads. Although a goodly number of people ignore it, our odd number plate (the car is registered in France) was a red flag. The officer was very polite, patient and professional. It was another interesting cultural experience for both of us. At one point I apologized that my Italian was not very good and he responded that he spoke no other language. He had to figure out how to fill out his form taking information from a Washington State driver's license belonging to an American who spoke less than fluent Italian and who was driving a car with French registration documents. It took some time. In the end I paid my €35 fine, turned on my lights, and was on my way. Now I lower my sun visor whenever I turn off the car as a reminder to turn on my lights when I get back in.
We navigated the minor roads without too much difficulty and saw some very interesting scenery on the way back to Roma. The down side is that it took a lot longer than we had expected. By the time we got back the parking spots were all taken. We had to drive around for a number of minutes and finally found a spot about four blocks from the flat. We hiked back and heated up the stew Mel had made the prior evening and had a pleasant, if rather late, dinner while we reminisced about our experiences, cultural and otherwise.
Friday - September 9 - St. Peter's and the Vatican
Today was a day of superlatives - the biggest church, the best frescos, the boldest church decoration. And the worst thunderstorms we've seen yet.
The weather in Roma has been strangely predictable. The morning dawns with clear, blue skies; by early afternoon the air is heavy with humidity and by late afternoon the skies open up with terrific thunderstorms - enormous claps of thunder follow the spectacular lightening flashes and the rain comes down in big, fat drops that soak through everything. Today was no exception, but it did hold off until after 4:00 p.m.
We went to St. Peter's first. After going through security, we spotted a priest in conversation with one of the Swiss guards. I've heard that Michelangelo designed the uniforms of the Swiss Guard - I've always thought that they looked like something put together from left over pieces of cloth. They are colorful, but I don't find them attractive. Inside St. Peter's I followed my rented audioguide and Tom spent time taking photos.

The one, the only, St. Peter's Basilica from St. Peter's Square, with Michelangelo's dome

Swiss guard and a priest in earnest conversation
The first stop was the chapel where Michelangelo's incredible Pieta is displayed on the altar. It is somewhat less than life-size, Mary is portrayed as a young woman - symbolizing her unique nature. Michelangelo's use of drapery to support the lifeless body of Christ is incredible. You can't see His face, but I saw a photo of it later, and it is incredibly peaceful - as if He is asleep. Michelangelo was a very young man when he carved this - only 25. The Pieta is kept behind glass now, to protect it - a madman attacked it some time ago - I think in the 1970s.

The Pieta - such a wonder - the tenderness of Mary, the lifelessness of Christ
The nave of St. Peter's is enormous, as one can imagine since this is the largest church in the world. There are markings on the floor that show the relative size of some other, larger churches, such as the Duomo in Milan and Notre Dame in Paris. Naturally, they are dwarfed by this building, On either side of the nave are chapels with various dedications. Near the High Altar is a statue of St. Peter, which is very old. People rub his right foot (I think for luck) and this has been done so many times that it is now worn smooth.

A very old statue of St. Peter - Jesus told him to build His church. The Basilica is thought to have been built over Peter's tomb
The high alter is covered by a baldacchino by Bernini. I've never cared much for it - it is too garish for my taste But the altar, over the tomb of St. Peter is quite beautiful. Some distance behind the altar is a representation of the Holy Ghost.

Bernini's Baldacchino over the altar which is over the tomb of St. Peter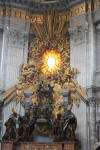 I love this - the Holy Ghost is represented as a dove in the middle of the figure
The funny thing about St. Peter's is that it is so familiar - Yes, this is my fourth visit, but it is familiar too because it is seen so often on television, whether the recent funeral of John Paul II and subsequent elevation of Benedict VXI, or in travel programs. At the same time, there is so much to see here - we were in the Basilica for more than two hours and just gave up trying to see everything because we were tired.
We walked back to our flat and had lunch. The sun was still shining. The building next to us is a church - the priest must live in quarters in the church - Tom noticed him hanging his laundry to dry. This is such an Italian thing - there are few clothes dryers and everyone hangs their laundry outside. Priests are like anyone else - they need clean sheets, shorts and socks, too.
Yes, even Men of God have laundry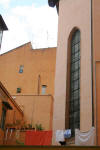 In Italy, laundry is usually done on Monday, but Father apparently had other duties this Monday past and delayed his responsibility to Friday
Back at the Vatican, we bought tickets to the Vatican Museums. It would take a month to go through all of the museums in detail - there are four miles of corridors! There are, of course, highlights, the most significant being the Sistine Chapel. However, the collection of Egyptian and Roman sculpture is extensive, and the frescos, many done by Raphael are very significant. We didn't make it into the picture gallery - again, we just ran out of steam. We really liked the 'map room'. It is a long hall, with lots of gilt decoration and the walls have maps of Italy (in fresco, I believe) of Italy from the perspective of the mid 1600's. The maps are probably 12' high and 10' wide - they are enormous. We enjoyed trying to pick out places we knew on them.
One of the first things you come to is a courtyard of the Pine - so named because of the enormous pine cone, which in Roman times was a centerpiece for a fountain. The stairs were designed by Michelangelo. As I read through these journals, I am struck at how many times in Italy one sees works by Michelangelo - he was long lived for the times (into his 80's, I believe) and incredibly productive. While some of his works are unfinished, the ones he completed are so exquisite that any one taken by itself would be enough to earn him a reputation as an incredible artist, sculpture, architect, painter. When you take all of his works together, they make for a singular collection.

The courtyard of the Pine - with a stairway designed by Michelangelo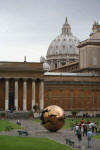 In the courtyard of the Pine - behind, another view of the dome of St. Peter's Basilica
The rooms decorated by Raphael are exquisite. I had never seen the very famous 'School of Athens' other than photos in books before. It was interesting to try to pick out which figure represented which famous philosopher and whose face Raphael had used. Plato is easily discernable and Raphael gave him Da Vinci's face.

Raphael's School of Athens - I remember studying this when I was in college - to come into a smallish room and be faced with this was breathtaking

Raphael's Dispute of the Holy Sacrament - not as famous as the fresco above, but a very meaningful one nonetheless
The highlight, of course, is the Sistine Chapel, with the glorious and recently restored frescos of Michelangelo. The colors are incredibly vibrant now that centuries of smoke and grime have been removed. The scenes are so famous that most everyone recognizes some of them - God reaching out to Adam to pass the spark of life (Eve is protected under God's arm), the creation of Eve and the Expulsion from the Garden of Eden.
The Last Judgment is so powerful, and the symbolism so great, that we spent a lot of time trying to make out the characters. There is Christ, powerful, with Mary behind him - the Christ is the same figure Michelangelo used in the ceiling. (The ceiling was done when he was in his 30's, the Last Judgment when he was in his 60's). Michelangelo must have been well versed in the Bible, as his illustrations of Bible stories seem to me to be accurate.

The Last Judgment - we've seen several representations prior to this - but this one is the penultimate - Christ is a masculine, powerful figure - Mary is fearful of the judgment her Son is handing down.

Bottom to top: the creation of Adam - God reaches out to impart the spark of life to His creation - Eve is protected by God, under His arm. The Creation of Eve - God has caused Adam to fall asleep and He draws Eve from Adam's rib. The Temptation by the serpent followed by the Expulsion from the Garden of Eden
Michelangelo had to deal with the architectural oddities of the Sistine Chapel - in doing so he created some masterpieces of art - Sibyls who look like they are alive above the viewer, frescos that are so three-dimensional you would swear they were sculpture.
On the walls of the chapel are frescos by a number of painters, masterpieces in their own right, but they tend to be overlooked when compared to the works of Michelangelo - Botticelli, Perugino and Signorelli are all represented. I liked the way that the frescos tell complete stories - there is the central event which is the most obvious (such as the Exodus, with the pursuing Egyptians drowning) but the events leading up to the main scene are also captured in the corners of the frescos. They are complete instructions in the Biblical story.
We had to by-pass the library - we were just too tired by this point. Tom decided to go back to the flat, and I decided to attend Mass. Tom made it back to the flat before the rain came. I was in line to go through security when it started. I was befriended by a couple from Sicily who shared their umbrella with me. In my broken Italian I told them I was going to Sicily in a few weeks - dove? dove? (where? where?) and sadly, I couldn't remember. They were in Roma to see the 'tomba del Papa' - the tomb of John Paul II, still so beloved of Catholics (and many non-Catholics). I eventually got into St. Peter's and attended Mass. Since I am not Catholic, I didn't take the Sacrament, but it was good to be in that place at that time (even though I was soaked to the skin). I understood most of the Mass because of the similarities to an Episcopal service, because I've attended Catholic Mass before, have sung Mass in Latin and now can understand a bit more Italian than I could a few weeks ago. Some of the Mass was in Latin, some in Italian, but I couldn't figure out what governed the use of which language.
It was a wet walk back to the flat, but I got home and put on a warm bathrobe and tried to dry out. We went out to dinner - our original destination was too far for a walk in this weather, so we went only two blocks from the flat and found a really nice restaurant where we had prosciutto and melon for antipasto. Tom had veal marsala, I had saltimbocca (it means 'jump in the mouth' and it does that!), I had cooked chicory, Tom had potatoes and we both had espresso (no dessert, no primo piatto). It was an excellent meal, although, once again, we were faced with the coarse, tasteless Italian bread. Perche? (Why?)
This is our last night in Roma. We both feel that this city is best done in small doses - it is so intense - the heat, the rain, the crowds, the sites, the graffiti, the litter. We both would like to come back - there is so much we haven't seen. We aren't shoppers, so the Via Veneto with all the posh shops holds no allure for us, but we have only seen about six of the more than 900 churches in this city, we haven't really grasped the Roman Forum, we have only been in a couple of museums. We haven't seen Mussolini's nightmare, the EUR. Just outside of Roma is Tivoli, which we saw 30 years ago and can't remember (it is a World Heritage Site). Sigh.
Tomorrow, on to Sorrento. Monday we get to work - Italian classes in the morning, Italian cooking classes in the afternoon. We'll be busy!